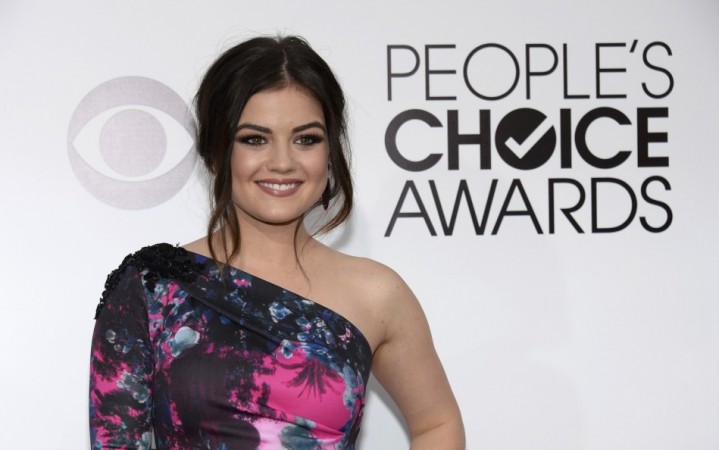 Tuesday's episode of "Pretty Little Liars" ended on a cliffhanger that saw Ezra (Ian Harding) popping the question to Aria (Lucy Hale), who was taken aback by his show of commitment. Viewers will have to wait till the next episode to find out if Aria accepts Ezra's proposal, but according to executive producer Marlene King, there's one thing that could prevent Aria from accepting the proposal.
For instance, the death of Elliot Rollins and her role in it could prevent Aria from starting a new life with Ezra. "There are some reasons why she doesn't feel like she's been completely honest with him, like the death of Elliot Rollins and that they buried that body, so her hesitation is really about that," King told Entertainment Tonight. "Like, 'How can I say yes if I haven't told him the truth about everything?' So that's sort of the thing she has to weigh out before she can answer him."
Out of all the couple, King chose Aria and Ezra to be a part of the grand #PLLProposal because they were the first two people to get romantically involved in Season 1 of "Pretty Little Liars." But that does not mean the others won't go down the same path. Calling Season 7 the most romantic of all the seasons, King said that she has planned a happy ending for most of its leads.
"I will still say that season seven is the most romantic of all of our seasons and there's many, many happy endings waiting for our characters and fans. We just have to wait and continue on in this winding path as we move forward. There's still much romance to be had," she said.
"Pretty Little Liars" airs Tuesdays on Freeform. The next episode is titled "Wanted: Dead or Alive" and it will see someone being murdered. The police will also start to unravel the mystery of Elliot Rollins' death, landing the Liars in more trouble.