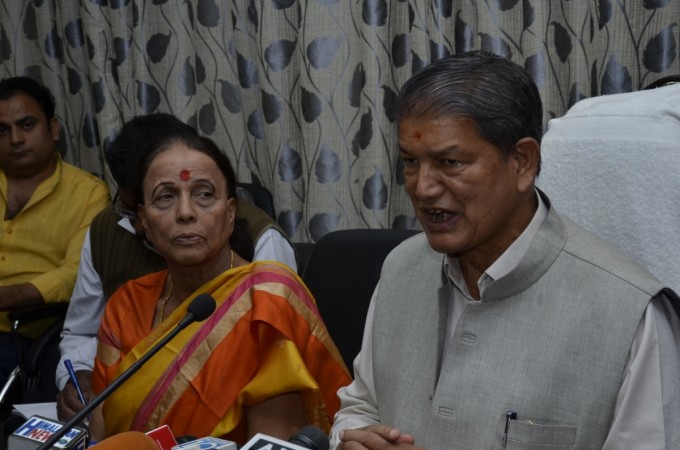 President's Rule was reportedly imposed in Uttarakhand, which is reeling under political crisis, Sunday following recommendation from the Union Cabinet. President Pranab Mukherjee signed the proclamation under Article 356 of the Constitution Sunday morning, Press Trust of India quoted its sources as saying.
The state assembly has not been dissolved, but kept in suspended animation, ABP Live reported.
Earlier Sunday, Uttarakhand Chief Minister Harish Rawat had criticised the NDA government's "threat" to impose President's rule in the state amid political turmoil that arose after nine Congress legislators rebelled against the government in Dehradun, Press Trust of India reported.
Rawat's statement came after the Union Cabinet, led by Prime Minister Narendra Modi, met Saturday night to discuss President's rule and other possibilities in Uttarakhand. A BJP delegation had earlier met President Pranab Mukherjee seeking to dissolve the state government, according to Indo-Asian New Service.
"The Centre is threatening a small state like Uttarakhand with President's rule. It is not acceptable in a parliamentary system. There is a procedure for President's rule, which has emerged following precedence," PTI quoted Rawat as saying.
"They (BJP) have attacked democracy with money and muscle power," he said, adding that ruling party of India is trying to "murder democracy" and topple his government using money power. "It is low-level politics," Rawat said.
He further accused the BJP and the RSS of "hobnobbing with the Congress rebels to create the crisis."
Nine Congress MLAs, headed by Vijay Bahuguna, rebelled against Rawat's government and reportedly threatened to form a government in the state with the support of the BJP, leading to a political crisis in the state. Following which, Governor KK Paul asked Rawat to prove the majority on the floor of the House Monday.
Security has been increased in at the residences of all MLAs and MPs in the state on the direction of Uttarakhand Assembly Speaker GS Gunjwal. Section 144 CrPC has also been imposed in certain areas, including the premises of state assembly, to prevent any clashes between BJP and Congress workers ahead of the majority test, the Indian Express reported.