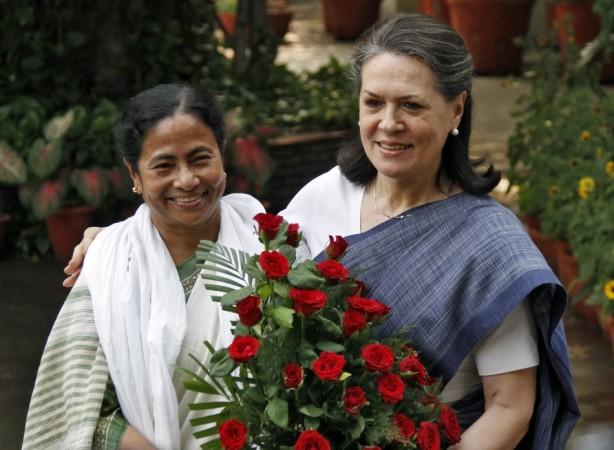 After keeping silent all this while, Congress party President Sonia Gandhi revealed her choices for Presidentship on Wednesday, but sadly, Trinamool Congress supremo and West Bengal chief minister Mamata Banerjee rejected her choices.
Mamata told reporters after her 30-minutes meeting with Sonia Gandhi that the Congress president's first choice for Presidentship is Pranab Mukherjee and the second choice is Hamid Ansari. She however didn't give any commitment but told her that she would reveal her decision after meeting her party members and Samajwadi Party leader Mulayam Singh Yadav.
Now, the latest we hear is that Mamata Banerjee and Mulayam Singh have rejected Sonia Gandhi's choices Finance Minister Pranab Mukherjee and Vice President Hamid Ansari.
The political leaders, who are rumoured to be trying to get special financial packaged for their respective states through the Presidential election, reportedly discussed three names during their second round meeting. And their choices are former President APJ Abdul Kalam, former Lok Sabha speaker Somnath Chatterjee and current Indian Prime Minister Manmohan Singh.
So far, only P.A. Sangma, former Lok Sabha Speaker, declared candidature for the top post. He has got the backing of AIADMK supremo and Tamil Nadu Chief Minister Jayalalithaa and Odisha Chief Minister Naveen Patnaik, who have been trying to woo the non-Congress political parties to vote for him.
Several names like Finance Minister Pranab Mukherjee, former West Bengal governor Gopal Krishna Gandhi, Vice-President Hamid Ansari, Power Minister Sushil Kumar Shinde, former police officer and National Commission for Minorities H.T. Sangliana and former Chief Minister of Nagaland S.C. Jamir have been doing the rounds but the Congress party kept silent till Sonia Gandhi revealed her choices to Mamata.
With the term of office of Smt. Pratibha Devisingh Patil, President of India, ending on July 24, 2012, Chief Election Commissioner V. S. Sampath announced on Tuesday that the 14th Presidential election will be held on July 19, 2012.
The Chief Election Commissioner stated in a press statement that the notification for the Presidential poll will be issued on June 16 and the last date of nomination is June 30. The nomination papers will be scrutinized on July 2 and the last date for the withdrawal of candidatures is July 4. The results of the election will be declared on July 22, two days before the term of Pratibha Patil ends.