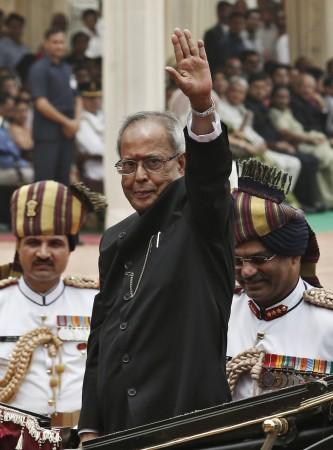 President Pranab Mukherjee on Thursday will inaugurate Suvarna Vidhana Soudha, the newly built legislative building in Karnataka, pushing aside Maharashtra's Shiv Sena's request to not attend the function in Belgaum district.
On Monday, the Bal Thackeray-led Shiv Sena urged Pranab to avoid the inaugural event keeping in mind the sentiments of the Marathi-speaking minorities in the region.
"By constructing the Assembly building in Belgaum, the Karnataka government is clearly trying to assert its authority over the Marathi-speaking minorities. So, we request the President to cancel his trip until the Supreme Court's verdict on the 865 disputed border villages, including those in Belgaum," senior Sena leader Subhash Desai told The Hindu.
The two states have long disputed over the boundary issue, with Maharashtra fighting to lay claim over Belgaum on linguistic grounds. A Mahajan Commission report in 1967 rejected Maharashtra's claim and stated that the city was part of Karnataka.
Keeping up with his commitment in Belgaum, the president will address a joint session of the Assembly and Council after the inauguration. His visit to Karnataka is scheduled for one day.
Pranab will also attend "bhoomi pujan" of Swami Vivekananda Value Education and Cultural Centre and will present Jnanapeet Award to renowned Kannada poet Chandrasekhar Kambar.
Confusion over Name Continues
The increasing demand from the public has compelled the government to change the name of Suvarna Soudha to Suvarna Vidhana Soudha recently.
According to the reports, the inauguration of Suvarana Vidhana Soundha will alone cost the government ₹150 lakh. The original budget for the construction was ₹230 crore and was expect to go up to ₹500 crore upon completion.
On Sunday, Karnataka Chief Minister Jagadish Shettar paid a visit to Belgaum along with PWD minister C M Udasi inspected the final work in the area.
"All the works are complete except the cleaning part which will be done in a couple of days. The house is ready for the session," said K G Bopaiah, Speaker, legislative assembly as quoted by Business Standard.
The confusion over the name of the complex prevails even after the invitation bearing the name change was sent out. It was said that the confusion over the name would be sorted out after the inauguration.
The name Suvarna Vidhana Soudha has been suggested to commemorate the golden jubilee of the state formation, and the decision to construct the building was taken during this period.
The new legislature building for Karnataka was approved during HD Kumaraswamy's tenure and then Deputy Chief Minister B. S. Yeddyurappa allocated the fund for the structure. Though the work began in 2009 the repeated deadline extension delayed the project further.