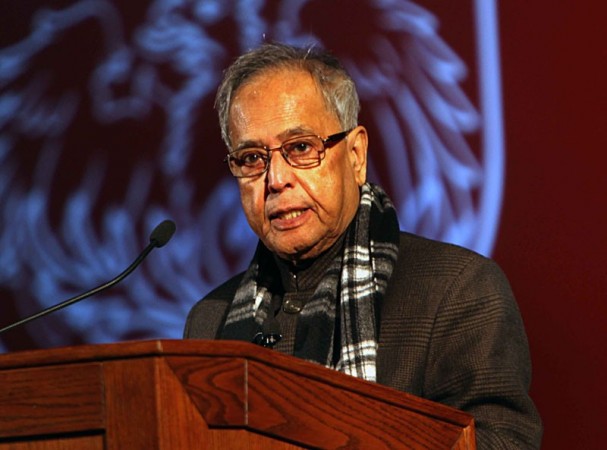 President Pranab Mukherjee on Sunday approved the anti-rape ordinance that called for tougher laws and death penalty to criminals in the rarest-of-rare cases.
A spokesperson from the ministry said that the president gave his assent to the Criminal Law (Amendment) Ordinance 2013 which will be introduced in the next parliamentary session for it to be cleared in the next six months.
The government affirmed that more changes will be made in the ordinance after it is introduced in the Parliament.
The Manmohan Singh-led cabinet cleared the ordinance in a meeting on Friday. According to the ordinance, if a victim of a rape case dies or turns into a vegetative state, the accused could face a 20-year minimum jail term which could be extended to natural life span or death.
The anti-rape ordinance was based on the recommendations of the JS Verma committee which was appointed by the government on Dec 23, 2012, after massive protests were held across the nation seeking speedy justice to the Delhi gang-rape victim. The committee is headed by former Chief Justice of India JS Verma with Justice (Retd.) Leila Seth, former Chief Justice of Himachal Pradesh High Court and Gopal Subramanian, former Solicitor General of India as its members.
With an aim to ensure speedy justice to victims of sexual assault and impose strict punishment on offenders in such cases, the committee had put forward a number of recommendations which excluded capital punishment.
The government went beyond the committee's recommendations and introduced death penalty for the accused if the victim died or fell into vegetative state.
The ordinance also invites strict punishment against offences like stalking, voyeurism, acid attacks, tonsuring, disrobing, stripping and indecent gestures. In addition, it has also raised the eve-teasing offence from being considered petty to serious.
The ordinance also stated that the word 'rape' will be replaced with 'sexual assault' to include various crimes against women under the same.
The ordinance, which included a number of other provisions, evoked mixed reactions. Bharatiya Janata Party backed the ordinance with party spokesperson Ravi Shankar saying, "The BJP is in support of strict laws. In Parliament, we will elaborate our views regarding this. For the security of women, there should be genuine and effective law. But good policing and good governance are equally important," reported PTI.
Women and Child Development Minister Krishna Tirath spoke in favour of the ordinance stating that it will stir fear among criminal elements of the society.
Communist Party of India-Marxist (CPI-M) leader Brinda Karat was opposed to the proposed ordinance claiming that its contents were against the recommendations of the JS Verma committee.
Many women's rights activists had also protested against the ordinance and implored Paranab Mukherjee to reject the exclusion of marital rape and sexual assault by Army personnel from the ordinance ambit.