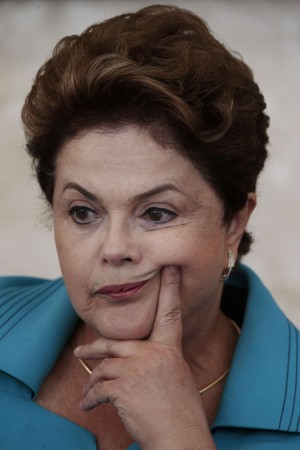 Amid fears of protests and strikes on the first day of the much awaited World Cup, against the perceived government over-spending for the event, President Dilma Rousseff, in a televised statement, has defended the huge amount of money spent.
Rejecting criticisms of overspending, she said in the TV address Tuesday that "the pessimists" had been defeated by the determination of the Brazilian people and added that the tournament would leave a lasting legacy of infrastructure. The address came less than 48 hours before the start of the much-awaited tournament in Brazil.
This comes as metro strikes are threatening to disrupt the opening game in Sao Paulo Thursday and the final in Rio de Janeiro fearing that the protests will intensify once the game starts.
Brazil has seen almost a year of protests over the $11 billion (approx) spending, which many citizens – gripped in economic downturn and other socio-economic issues – feel could have been spent in education, healthcare and the likes instead. Rousseff said Tuesday that investments in stadiums, airport terminals and other infrastructure would provide long-term benefits to the country.
Rejecting the "false dilemma" that World Cup spending somehow diminished investments in health, education and other public services, Rousseff sought to underscore the fact that the event was held, "above all, for Brazilians."
The Brazilian President's address came as it was revealed that support for Rousseff had slipped to lowest level, ahead of October's elections, according to a poll conducted by IBOPE, which was released on Tuesday, Reuters reported.
Among other things that led to Rousseff's sufferings in approval ratings, were a series of scandals at a state run energy company, a stagnant economy and persistent inflation. These issues have added fuel to fire, affecting the president's dwindling fame.
However, Rousseff on Tuesday urged her compatriots to be hospitable to foreign fans and promised that the country will audit all of the spending and punish any corruption.
"If any irregularities are proven," she said, "those responsible will be punished."
"Let's return the generosity," she urged.
The tournament, which kicks off on Thursday when Brazil faces Croatia in Sao Paulo, is thought to be the most costly World Cup since the games began 84 years ago.