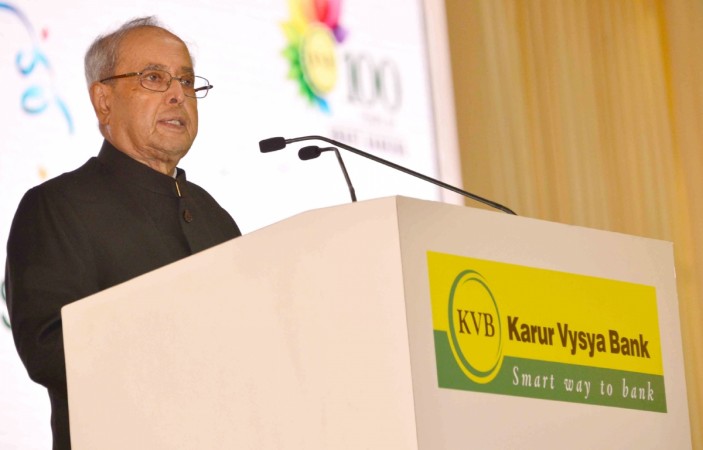 Bad loans or non-performing assets (NPAs) in banking parlance have risen sharply in India, limiting the scope for credit growth. NPAs of scheduled commercial banks stood at 11.40 per cent of the total loans as of March 2016 and the provisioning for bad loans more than doubled to Rs. 1,70,630 crore at the end of the financial year 2015-16 from Rs. 73,887 crore in the preceding fiscal, according to President Pranab Mukherjee.
"As a result, resources available for credit disbursement by commercial banks has been affected and is not in a desirable situation," the President said while speaking at the centenary celebrations of private sector lender Karur Vysya Bank in Chennai on Saturday, according to an official statement.
President Mukherjee also said that bankers are in a fiduciary position as "trustees" of money deposited with them by customers and should ensure protection their money.
In the past three to four quarters, NPAs of banks, especially state-run, have been under the spotlight after the Reserve Bank of India (RBI) ordered for an asset quality review to ensure that balance sheets of banks are cleaned up by March 2017. In other words, banks have been directed to provide for all bad loans (NPAs) by March next year.
President Mukherjee also expressed hope that the Central government will initiate next steps to establish the Goods and Services Tax (GST) Council soon.
"And I do hope the finance ministry will take appropriate steps to set up the GST council to fix the rate because it is the responsibility of the GST Council that one uniform rate of goods and services is introduced in our economy," President Mukherjee was quoted as saying by PTI.
Karur Vysya Bank is a Tamil Nadu-based bank with assets and liabilities of 39,476 crore and Rs. 50,079 crore, respectively, as of March 31, 2016. The bank had earned net profit of Rs. 567.63 crore for the financial year 2015-16.
The share price of Karur Vysya Bank closed at Rs. 471.25 on Friday on the Bombay Stock Exchange, down 1.61 per cent from its previous close. The bank is considering a stock split from the current face value of Rs. 10 per share, as was informed to the stock exchanges on August 30.
"The meeting of the Board of Directors of the bank will be held on Sept. 19 to consider the feasibility of sub-division of equity shares of the bank," Karur Vysya Bank said in a regulatory filing.