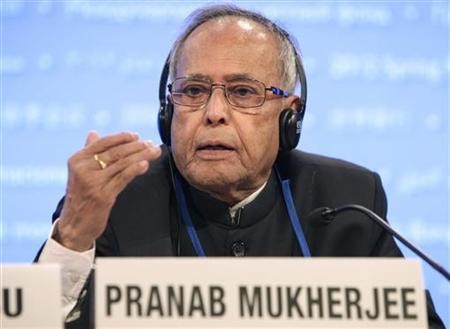 Former Finance Minister Pranab Mukherjee got past another hurdle in his race for the President post, as the Supreme Court on Friday declined to entertain a Public Interest Litigation (PIL) filed against his nomination for the top post.
Petitioner and Supreme Court lawyer Manohar Lal Sharma accused Pranab of misusing the Finance Ministry for allegedly granting sops to political parties in a bid to gain their support for his candidature. Sharma sought for a detailed probe into his allegations against Pranab.
The court lawyer indicted that Pranab sanctioned financial aid to Bihar ahead of his nomination for the President post by the UPA coalition.
The apex court bench dismissed the plea saying that the allegations against Pranab were baseless and warned the petitioner not to approach the court with such "unsubstantiated petitions" in the coming days.
Pranab's nomination is already challenged by NDA-supported nominee former Lok Sabha Speaker PA Sangma, who sought the cancellation of Pranab's nomination by saying that he enjoys the office of benefit as chairman of Indian Statistical Institute.
However, the ruling officer for President poll in Rajya Sabha accepted Pranab's nomination papers this week, while rejecting the objections raised by the Sangma team.
Disappointed by the official's order over their objections, the Sangma team is expected to move the court citing the same request to cancel the nomination of the UPA's Presidential candidate.
Pranab supposedly gained a favourable number of votes in both the Houses and is expected to win the Presidential race. However, he is currently facing trouble from his ally West Bengal Chief Minister Mamata Banerjee.
Despite her close association with Pranab and his party Congress, Trinamool Congress chief has disagreed to throw away her support for the ex-finance minster. She reportedly said that her party would abstain from voting if her favourite APJ Abdul Kalam, scientist and former President of India, refuses to contest for the top post.
However, Pranab and the Congress party efforts are out to convince Mamata to support UPA's desired candidate. On the other hand, the BJP is urging her to back Sangma's candidature.