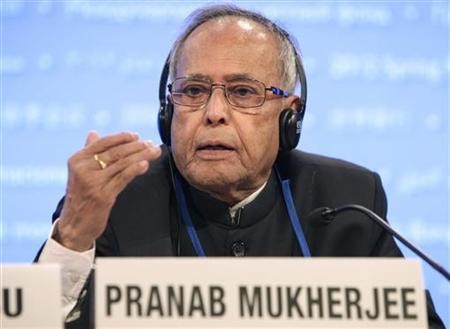 According to latest reports, finance minister Pranab Mukherjee will officially resign his post on June 26, as he has been nominated by the ruling Congress party for the president post.
Earlier, Pranab was expected to relinquish the finance minister's office by June 25. But the delay in his resignation was confirmed by a Congress source on Thursday.
So far there is no word from the Congress on who will take over as the next finance minister. However, sources suggested that prime minister Manmohan Singh may keep the portfolio for a while till the party figures out a potential leader.
Congress party is purportedly waiting for the prime minister, who is on a visit to Brazil and Mexico till June 25, to return India and make decisions related to the presidential poll.
Pranab Mukerjee has been serving at the prime minister's office since 2009. He is touted as Congress's trouble-shooter and enjoys a certain amount of rapport with opposition parties.
BJP, however, has opposed Pranab's candidature for the top post, saying he is unacceptable for the party terming him as a hard-core Congressman.
Amid the ongoing allegations of "horse-trading" between political parties in race for the president post, Pranab is gradually gaining support against his rival, former Lok Sabha Speaker and NCP rebel leader PA Sangma.
Janata Dal (United) and Shiv Sena, key allies of BJP, have announced their support for Pranab's candidature while breaking ranks with the BJP-led NDA over the presidential poll.
Pranab's candidature has also created rift among Left parties; while CPM and Forward Bloc have decided to back Pranab for the president post, the CPI and RSP announced that it would abstain from voting in the election, which will be held on July 19.
On the other hand, Sangma appears to be very confident and unfazed inspite of facing unsatisfactory vote share compared to his rival Pranab.
Sangma's name was first proposed by Tamil Nadu CM Jayalalithaa and Odisha CM Naveen Patnaik. Now the BJP is also lobbying for his candidature. Meanwhile, Sangma is also expecting support from West Bengal CM Mamata Banerjee as she is also against Pranab's nomination. Sangma said that he is in touch with Mamata and will be meeting her in a couple of days to discuss about the poll.