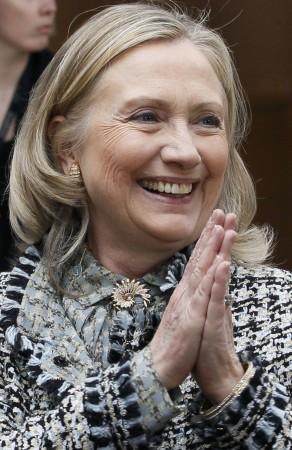 At a time when US-India strategic ties are smacked with investment policy issues, Secretary of State Hillary Clinton on Wednesday sought to strengthen the relationship between the two biggest democracies, while congratulating Pranab Mukherjee on the occasion of his swearing-in ceremony as the 13th President of India.
Hillary described President Pranab as "a strong partner", who was keen on pushing US-India ties to higher levels.
The Secretary of State in a statement said, "President Mukherjee has been a strong partner to America and the American people, working throughout his career to deepen our cooperation on a wide range of issues."
"I look forward to continuing to work with the government and people of India. Together we will build on our shared democratic values, strengthen this relationship even more and create a brighter future for both our people," she added.
Lately, US President Barack Obama called for a massive reform in Indian business sectors, which imposed restrictions on the flow of FDI into certain markets. His concerns on restricted investment scopes in the country kicked off a controversy, with several government parties saying that the decision to impose such limitations is in the hands of policy makers and not up to the US President.
Citing the prevailing negative investment climate in India, Obama sought for another "wave of reforms" that would speed up the slow moving economy. Obama retorted that his statement on the FDI policies was not a direct jibe at the country's policy makers, but that it just reflected the concerns of American-based business organisations.
His remarks drew intense criticism from several Indian lawmakers and opposition parties. Commenting on Obama's concerns, Corporate Affairs Minister M Veerappa Moily accused international lobbies of spreading wrong perceptions on India's investment climate and opined that the US President was not properly informed of the country's economy potential. [Read: Indian Govt Slams Obama's Investment Concerns]