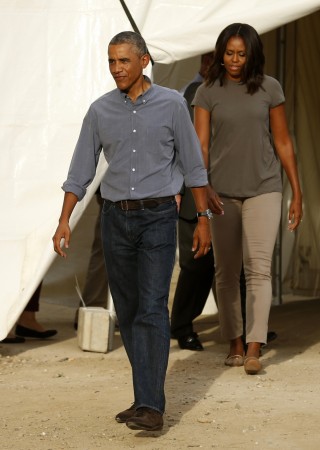 United States President Barack Obama, accompanied by first lady Michelle Obama, will arrive on 25 January on a three-day tour that is packed with meetings, bilateral talks and a visit to the world famous Taj Mahal.
As reported earlier, Obama will be the chief guest at the Republic Day parade on 26 January.
On his first day, he is slated to meet prime minister Narendra Modi for bilateral talks that would include terrorism, civil nuclear cooperation and economic partnership.
He will also address a roundtable with CEOsin New Delhi the date for which has not been finalised. It is believed that prime minister Narendra Modi may join him.
Also on cards is an address at any one of New Delhi's colleges.
The couple will visit Taj Mahal on 27 January before leaving for the United States.
In the wake of intelligence inputs on terror threat to India during Obama's visit, security has been increased at all sensitive places and high alert has been issued at major cities. A final security and protocol meeting will be held on Friday to discuss the security arrangements.
US Secretary of state John Kerry made a trip to India ahead of Obama's visit, laying the groundwork for the President's three-day trip.
Obama is paying a visit to India on receiving an invitation from Modi last year. "This Republic Day, we hope to have a friend over...invited President Obama to be the 1st US President to grace the occasion as Chief Guest," Modi had tweeted.