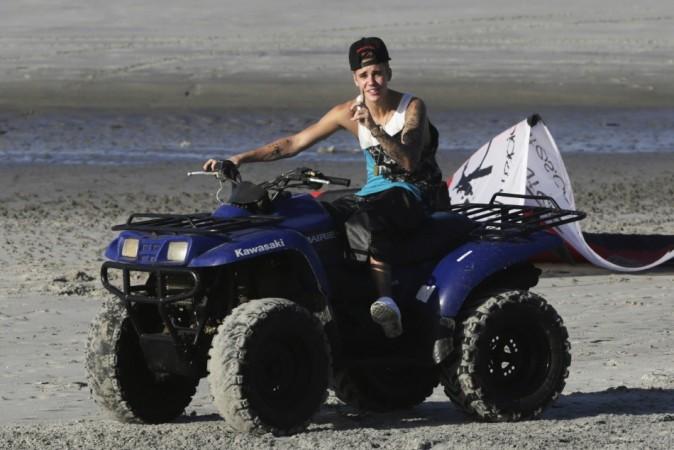 Justin Bieber seems to have recovered from the shock of being arrested for driving under the influence and drag racing. The teenager was spotted frolicking on a beach in Panama on Monday.
But, it seems that a good number of Americans haven't forgotten his reckless antics. The White House's We the People webpage has received more than 53,000 petitions seeking Bieber's deportation to Canada.
"We the people of the United States feel that we are being wrongly represented in the world of pop culture," the petition read.
"We would like to see the dangerous, reckless, destructive, and drug abusing, Justin Bieber deported and his green card revoked. He is not only threatening the safety of our people but he is also a terrible influence on our nations youth. We the people would like to remove Justin Bieber from our society."
The petitioners are hoping to garner 100,000 signatures before Feb. 22 so that it would be brought to the attention of President Barack Obama.
In the meantime, Bieber's record label chief admitted to the media that the Canadian pop sensation is in need for an intervention, and that he should immediately seek professional help.
Speaking at the official Universal Music Group Grammys aftershow party at the Ace Hotel in Los Angeles, Universal chief Lucian Grainge said that Bieber "needs help. He needs an intervention."
According to the Mirror, Grainge said they are currently working towards taking off pressure from Bieber so that the teenager can sort out his issues.
"All of us around him need to take all the responsibility, all the pressure off him and give him support so he can address the issues he has – and he does have issues. And I'd like it to be dealt with."
Grainge conceded that dealing with a teenager is not that simple.
"But what people don't understand, he's a 19-year-old. You cannot just pick someone up and force them to do something if they are not ready."