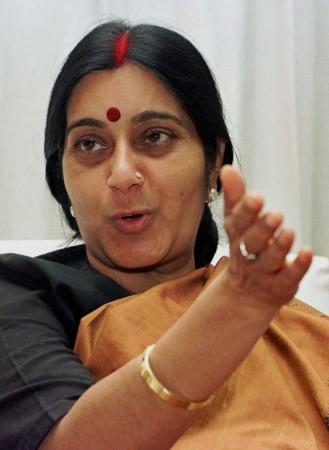 The BJP in the Lok Sabha on Tuesday made its stand very clear on the much-hyped Presidential election, in which it declared that the party will not support any Congress-backed candidate.
The Leader of Opposition in Lok Sabha, Sushma Swaraj said, "We will not accept any Congress candidate, including Pranab Mukherjee, for the president's post."
Meanwhile, Sushma Swaraj said that the BJP would consider candidates proposed by non-Congress parties, even it's from UPA allies.
With the current President Pratiba Patil's term ending July, the Congress party has been making all the possible efforts to get its way with its candidate for the top post.
The Congress leaders have held a few meetings with their allies in a deal to garner supports, with Vice-President Hamid Ansari and Finance Minister Pranab Mukherjee as their favourites for the President post. Meanwhile, Lok Sabha Speaker Meira Kumar is also touted as age-old party's one of three choices.
Swaraj while refusing to support Congress's choice, questioned the credentials of Ansari for the top post. She said that the current Vice-President "lacked the stature for the job," and Pranab is a "hardcore Congressman."
Defence Minister AK Antony met DMK patriarch M Karunanidhi on Sunday at the latter's Chennai residence, to forge a consensus on the UPA candidate, in which the Congress leader has apparently convinced the DMK boss over the party's choice of candidate.
Earlier, Congress President Sonia Gandhi had convened a meeting with NCP leader Pawar over the candidate.
The NCP being a key ally of UPA, joined main opposition BJP and demanded for an apolitical candidate as Patil's successor, who can purportedly take a neutral stand and deliver an unbiased service. Both the parties have suggested their choices as well.
The BJP is recommending former president Kalam and NCP batting for former Lok Sabha Speaker PA Sangma.
However, Congress is apparently showing interest in NCP's choice, Sangma, while being reluctant about Kalam.
Media reports on Sunday said that even Karunanidhi has opposed for Kalam's candidature for the Presidentship and suggested for a person who has a considerable administrative and political experience.
Meanwhile, Sonia Gandhi will be meeting Trinamool Congress leader and West Bengal Chief Minister Mamata Banerjee this week over the Presidential poll.
The Congress cannot get away with its choice on its own as it lacks the required numbers. Hence, it has been holding series of meeting and personally approaching its allies to ensure its candidate gets the majority.