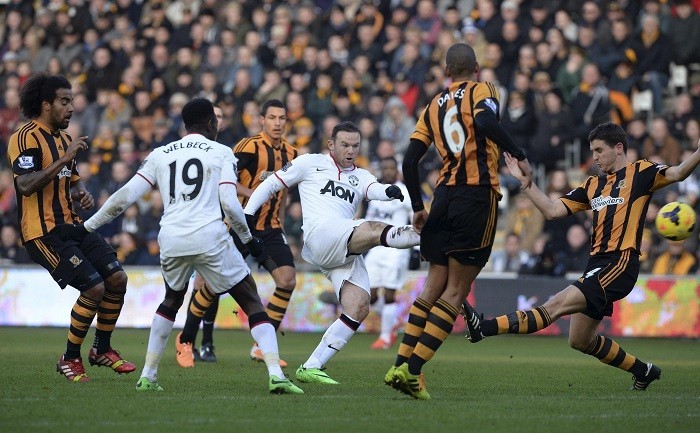 In a let's-forget-about-defence-and-score-some-goals-because-it's-boxing-day match Manchester United came from a couple of goals down to top Hull City 3-2 in an enthralling English Premier League encounter.
The first of ten Boxing Day fixtures served out a post-Christmas treat of end-to-end you-score-first-then-I'll-score 90 minutes of Premier League football, with Wayne Rooney coming to the fore for the champions at the KC Stadium.
Hull stormed into the lead courtesy goals from James Chester and David Meyler with barely 13 minutes on the clock, before Rooney assisted a Chris Smalling header, and then thumped home a piledriver from 25 yards. Rooney would then force an own goal from Hull goalscorer Chester, who was horrified to head into his own net on 66 minutes.
The win takes United to within five points of leaders Liverpool and Arsenal, who play later against Manchester City and West Ham respectively.
Four minutes was all it took for United to fall a goal down, as Chester hooked one into the back of the net after an initial header from Alex Bruce, the son of manager Steve, into the danger area.
It was it-still-must-be-Christmas-feeling time eight minutes later as David Meyler's scuffed shot which was going straight into the arms of David De Gea was deflected in by Jonny Evans.
It was does-this-United-side-have-the-same-kind-of-character-of-a-Sir-Alex-Ferguson-side situation now, and character this side, slowly but surely hitting their straps as the season has progressed, showed.
First, Smalling soared before thumping a header into the back of the net off a freekick from Rooney, before the United talisman decided to bring out that magical right foot into play. Evans played out a long ball to Rooney, who tried to flick it over the top for Danny Welbeck; the ball, a little fortunately, came back to him, sitting up perfectly for a hit-me-please volley, which Rooney duly did, giving Hull goalkeeper Alan McGregor no chance.
United, who deployed Antonio Valencia at right-back from the 16th minute after Rafael had to come off injured for Adnan Januzaj, were on the ascendancy after the second goal on 26 minutes, but a third would not come by halftime as both sides paused for breath before commencing that ding-dong battle again.
Hull, to their credit, gave as much as they received in the second 45, showing some real intent to get at the United defence, which looked like it could crumble at any time.
Bruce was left to wonder what might have been in the 65th minute, as he saw the ball tease the Hull City fans, seemingly heading its way into the top corner, only to change course ever so slightly and crash onto the crossbar.
A minute later, and United went into the lead for good, as Ashley Young swung in a cross from the right, after finding space thanks to a poor challenge from Maynor Figueroa. Chester, a former United player, under pressure from Rooney, could only manage to head into his own net.
Hull, desperate for at least a point after such a bright start, threw the kitchen sink, the Christmas presents and Santa at United in the final moments, but the equaliser would just not come, as United, a late what-were-you-thinking Valencia red card notwithstanding, continued their resurrection.