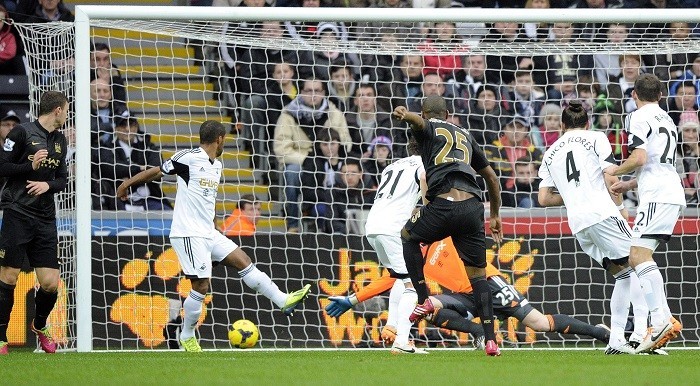 Manchester City just kept chugging along their merry way, opening up 2014 in their own inimitable style, courtesy a powerful, we-are-finding-our-away-groove 3-2 victory at Swansea City in the English Premier League.
Goals from Fernadinho, Yaya Toure and Aleksandar Kolarov proved to be just too much for Swansea, who could not find that it's-the-New-Year-let's-celebrate-with-a-win feeling - Wilfried Bony netting a brace in a losing effort.
Manchester City just had too much firepower over Swansea, who gave it their best shot, but fell a tad short against a side at the peak of their powers, with the three points taking Manuel Pellegrini's men to the top of the Premier League table by two points from Arsenal, who play later against Cardiff..
Fernandinho, who has quietly been one of the best players in the English Premier League this season, opened the scoring for City in the 14th minute. A corner rebounded off the stomach of Jonathan De Guzman, before trickling to Fernandinho just outside the box, with the Brazilian unleashing a low and hard piledriver into the back of the net.
City looked to put the game to bed and move onto some New Year celebrations before halftime, but Swansea, to their credit, kept at it, and roared on by the home crowd, found the equaliser on the stroke of halftime after a good little five-minute spell.
De Guzman, after receiving the ball from Wayne Routledge on the right, picked out a nice ball for Wilfried Bony, who was a shade offside, to direct an astute header into the bottom corner.
However, you always felt, City had that we-play-this-way-and-you-have-no-chance gear, with Yaya Toure, aided by a big deflection off Ashley Williams, putting the Manchester side in the lead for good in the 58th minute.
Aleksandar Kolarov, who has done exceedingly well to keep Gael Clichy on the bench, then decided to have a crack at goal himself, with another deflection catching goalkeeper Gerhard Tremmel off guard.
The game seemed to be over after that third goal on 66 minutes, but Swansea, without a win in five Premier League games, kept looking for some sort of reward, with Williams unable to turn in a corner into an empty net after I-want-to-punch-the-ball-even-if-I-can-get-nowhere-near-it Joe Hart came out flapping only to grasp at thin air.
Wilfried Bony gave Swansea some hope with a pure long-range strike in the 91st minute, but the goal came a little too late as City picked up with another impressive three points away from home.