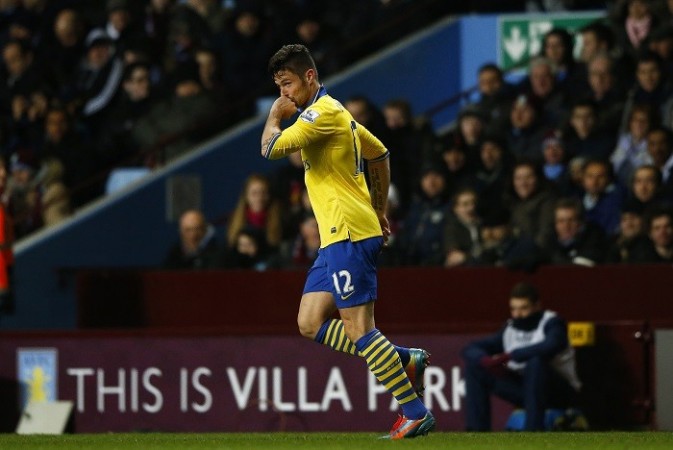 Arsene Wenger stressed on his team's fighting qualities after Arsenal rode out a second half storm from Aston Villa to go back to the top of the English Premier League.
Goals from Jack Wilshere and Olivier Giroud put Arsenal in a comfortable position in the first half, but a little bit of complacency coupled with Villa's desire to get something from the game caused the final half an hour to be a tense one for the away side with Christian Benteke reducing the deficit to 2-1, before the away side stood firm.
"It was a big win for us, it was about two different halves," Wenger said of the 2-1 victory. "The first half was about playing our game with the speed of our passing and controlling the game. The second half was more about fighting, I felt it was down a little bit to, first of all, a different style from Villa who played three through the middle and a very direct game.
"Maybe we were a bit too cautious just to keep the 2-0. But it was about fighting and our defenders kept us in the game."
It looked like the Arsenal players just took their foot off the pedal after going two goals up in less than a minute, which in turn allowed Villa to fight their way back in the second half, and Wenger acknowledged the problem.
"I don't know, was it too confident or too cautious? I think it was too cautious," the Frenchman said. "Maybe we thought we'd keep control of the game and keep it at 2-0 but we lost a bit of incisiveness in our game and that desire to score more."
The win was vital as nothing short of three points would have taken the Gunners back to the top, by one point, after Manchester City and Chelsea won earlier in the weekend.
"We had to give a strong response because everybody looks at you and see if you drop points because they have made their points over the weekend so the only way you can deal with that is we were a bit more under pressure when you play last," Wenger added.
"You know that you're not allowed to drop any points but you can only give one answer and that is to win the game."
Aston Villa manager Paul Lambert was proud of his side's performance in the second half, after a rather forgettable fist 45. "I said some little things at halftime, and, to be fair, they responded fantastic," said Lambert, whose side won just one in their last seven games. "The crowd reacted too.
"The crowd is your barometer. It's about getting them going, which we did. The goal gave us a huge lift to go again.
"But we were playing against a right top side. They have great ability and cost a lot of money. They are vying for the title. They are vying for the Champions League. But we certainly gave them a fright, that's for sure.
"I thought the second half was similar to the Newcastle home game last season. Christian scored that night too. You heard the crowd's reaction to what happened. There's a way to get beat. If you down with fight and spirit then you can accept that better.
"It's something to build on. You know the crowd will go with you if you turn in performances. They know that. In the second half, that was more like us. We have a good spirit, that's for sure.
"That performance will be a bit weight off our shoulders. I think the crowd realised the lads gave it everything they had in the second half. That's a major thing. The lads will know that themselves."