If anybody in the Arsenal team deserved a breather, it was Olivier Giroud - the man who has debunked his critics time and again with a brilliant second season so far for the club.
The French striker had started every single English Premier League game and Champions League match heading into the clash against Hull City at the Emirates on Wednesday, and Arsene Wenger felt now was the time, before Arsenal's premier centre-forward broke down and put his side in a crisis.
The only problem was there was no obvious choice, with Nicklas Bendtner hardly convincing, Lukas Podolski and Yaya Sanogo out injured and Theo Walcott only just returning from two months out.
Wenger decided to give the much-maligned Bendtner a chance up front from the beginning, and the Danish striker repaid the manager with a good performance, highlighted by the opening goal scored as early as the second minute to send Arsenal on their way to a 2-0 victory against Hull.
Bendtner put Arsenal in front early on, and it was the result of adept centre-forward play. The Danish international, who has time and again expressed his desire to leave the Gunners in the next transfer window, found space inside the box in between the Hull defenders with Carl Jenkinson playing in a perfect cross from the right for the striker to head in from six yards.
Arsenal bossed the entire game from start to finish with Mesut Ozil pretty much sealing the result in the second minute of the second half with a neat finish after a beautiful pass from Aaron Ramsey.
Bendtner did as well as anyone could have hoped, probably better than many had expected, and if the 25-year-old can continue in the same vein, then Wenger will seriously reconsider the need to bring in another striker in January.
"Look, [it is a gamble] if a guy has not played for a long time, and his last performance was not convincing against Chelsea [in the Capital One Cup], but he has worked hard in training and deserved a chance," Wenger said of Bendtner.
"We know that when he has the mind of the game, he has the qualities. I believe tonight [Wednesday] he had a good game.
"He has the stature, he has good technical quality, he has quite good pace. Look, we had him as a boy of 15 or 16 and I made him sign a long contract twice so that means I always believed in his qualities."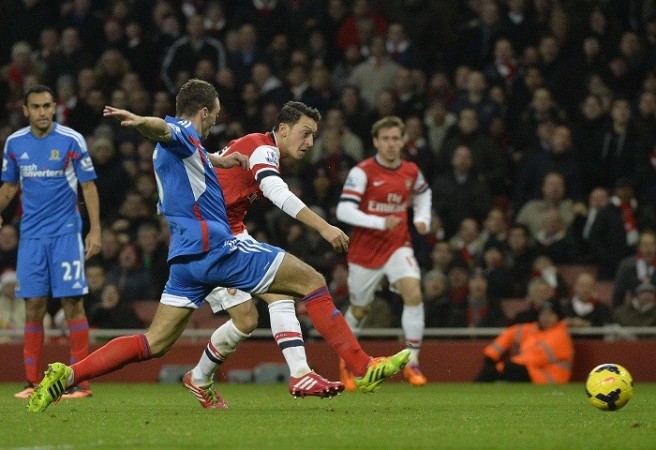 Overall, it was as serene a night as Wenger could have wanted as Arsenal maintained their four-point lead at the top of the table. The win proved to be crucial with all the rest of the big boys, barring Manchester United, also picking up three points on the night.
"We had a good night because we had a good control of the game," Wenger added. "We had some great technical quality and keep a clean sheet. We rotated quite a bit as well. We couldn't take all the chances we created but overall it was a very convincing performance."
Arsenal now have a crucial week ahead, starting with a home game in the Premier League against Everton on Sunday. The Gunners then travel to Italy to take on Napoli in their final Champions League group game, before visiting Manchester City at the Etihad on Saturday week.
"We have a very heavy schedule, that's why as well I had to rest some players today [Wednesday] and to rotate," said Wenger who gave the likes of Mikel Arteta, Jack Wilshere and Kieran Gibbs a breather. "Now we play Everton on Sunday, there is little distance between Everton and [the Napoli game]. We play Wednesday night in Naples and Saturday morning at Man City, so for us it is a very very heavy schedule."
Hull manager Steve Bruce, whose side were buzzing from the 3-1 victory over Liverpool at the weekend, said he was quite happy with his side's performance, and felt giving away an early made it doubly difficult to get anything out of the game.
"Overall it was a difficult evening," he said. "We've had two tough games this week, but we've managed to pick up three points. That's a positive. I'm glad we still knuckled down, because we've avoided an embarrassing scoreline. Arsenal are a great team, and we showed resilience.
"The one thing you want when you come to the Emirates is to start well and they have scored a wonderful goal, we've been done on a one-two in a wide area, but it's wonderful.
"Arsenal are confident enough and then when they go 1-0 up early on it becomes a difficult evening for us. I was delighted to get back into the game but lo and behold we did the same thing in the second half but late on we rolled our sleeves up otherwise it could have been embarrassing."