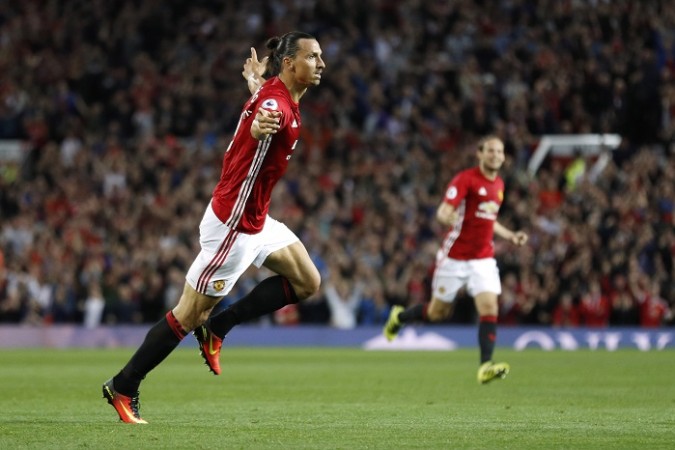 Paul Pogba made his debut after re-signing with Manchester United in a world record transfer from Juventus, and Jose Mourinho's men made it a memorable one for the Frenchman, thanks to Zlatan Ibrahimovic's brilliance. Doubts over Ibrahimovic and his age getting shown up in the Premier League are being put to shade, with the Swede scoring both goals in a 2-0 win over Southampton on Friday.
Pogba played the full 90 minutes for Manchester United and showed glimpses of why Manchester United shelled out nearly £90 million for him, but it was Ibrahimovic, again, who grabbed the headlines.
Having scored a wonderful long-range goal in his first Premier League match, to go with the winner he struck in the Community Shield, Ibrahimovic added another beautiful header to the collection, with a slot from the penalty box giving him his third goal of the season.
"If he doesn't score, the contribution will be there because he can't score every week," Mourinho said of Ibrahimovic. "The way he holds the ball, the way he's a target man and gives stability to the team, I think he was very good again."
Zlatan gave plaudits to his teammates, with the opening goal coming via a brilliant header from the target man. Wayne Rooney played in a cross from the right, and Ibrahimovic rose above Jose Fonte to plant a header into the back of the net in the 36th minute.
Seven minutes into the second half, Ibrahimovic was cool as ice as he slotted home a penalty after Jordy Clasie was deemed to have brought down Luke Shaw.
"If the team does good, the individual does good," Ibrahimovic was quoted as saying by The Guardian. "I tried to do what I am best at, create chances, help my teammates and then scoring goals. So far three goals in total and I'm happy for the team, two games, two wins. We are becoming better and better.
"It was the first game at home and we won it. And it was a good start. We need to get used to winning because the mental part is always important as well as the physical part. So we're happy for the three points and for the first game for Paul. He needs to settle in, and the rest will come by itself. We need to put the puzzle together and then work on it."