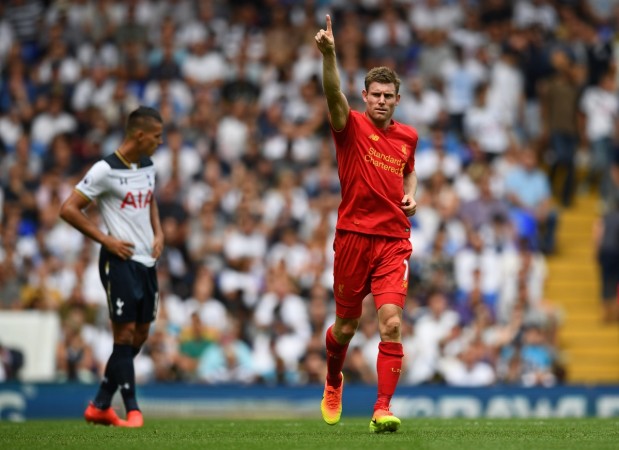 Tottenham Hotspur, courtesy England defender Danny Rose, came from behind to hold Liverpool from getting a crucial win in their Premier League third matchweek game at the White Hart Lane on Saturday. James Milner had provided the opening goal for the Reds.
Resolute defending, top goalkeeping, calculated attacks and a Milner goal were the major talking points in the first half of the match. Tottenham goalkeeper Michel Vorm didn't look any less impressive than what Hugo Lloris could have been, had he been match-fit. The Dutch custodian started proceedings with a stellar save within five minutes of the match as he denied Liverpool star Philippe Coutinho a sure goal early on.
Roberto Firmino played a perfect through ball to his compatriot inside the box and Coutinho shot the ball on target. Vorm made an out-of-the-blue save with his feet to deny the goal and clear the ball away.
On the other end, Belgian custodian Simon Mignolet, too, was making acrobatic saves to deny Spurs on many occasions to get first blood. Nevertheless, the flowy football continued from both ends and the defence remained resolute as well. In the 42nd minute, it was Erik Lamela of Spurs who made a trip on Firmino inside the box and the referee had no option but to award a penalty.
England midfielder Milner stepped on to take it and made no mistakes as he blasted the top corner of the net, and made Vorm dive the wrong way.
Over to the second half, Christian Eriksen of Spurs tried taking a lot of shots on goals but each time, he missed the target only by a whisker. In the 64th minute of the match, Mignolet showed his class once again as he made back-to-back saves to deny Lamela as well as Toby Alderweireld with world class saves.
The former Sunderland goalkeeper, however, could not stop a great shot from Tottenham defender Danny Rose this time, as the left-back pounced on a perfect pass from Eric Dier to pull the trigger powerfully and blast the net for the equaliser in the 72nd minute of the match.
Jurgen Klopp's side tried hard to get the crucial late goal but no matter how much Georginio Wijnaldum tried, the former Newcastle United player couldn't keep his shots on target. Following this result, Spurs earn five points from three games, while the Reds record a win, a loss and a draw from their three games this season so far.