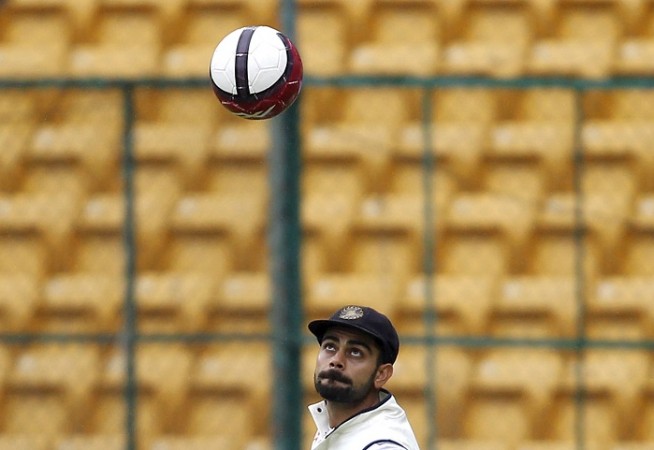 The world's first multinational team-based Futsal league — Premier Futsal — is all set to take place in India. The Premier Futsal management has roped in Royal Challengers Bangalore captain Virat Kohli as the brand ambassador of the league.
Kohli, who is one of the fittest Indian sportspersons, feels this league will open new avenues for aspiring young footballers in India. He is aware of how this game is different from football and said this sport is going to grab a lot of eyeballs in this country, especially the youngsters.
The Team India Test captain is also hopeful that if the kids who are aspiring to make a career in this form of the game are nurtured properly and given proper training in international-standard facilities, this sport will definitely go on to produce a number of local talents.
"The launch of Premier Fustal is a massive shot in the arm for Indian sport. We have seen India's appetite for different sports growing over the last few years and I am sure a sport as exciting, competitive and riveting as futsal will strike a chord with sports fans here," Kohli said at the launch of the Premier Futsal talent hunt event in Bengaluru on Thursday.
Premier Futsal launched the nationwide talent hunt — "Premier Futsal Launchpad" — to identify the top local futsalling talents, who can feature in the inaugural edition of the league, which is scheduled to take place from July 15-July 24 in India.
"I think the talent hunt is a great initiative which will nurture local talent and help futsal establish firmly among India's most followed sports," Kohli added.
Kohli, who co-owns the FC Goa franchise in the Indian Super League (ISL), is excited to be a part of this initiative. He said he would love to spread the buzz about this thrilling sport across the country and a lot of youngsters would surely be lured to pursue this five-a-side game.
This talent hunt will be open to any applicants aged 18-24 years. It will kick-start in New Delhi on May 26 and travel across seven cities, ending on June 21 in the same city.