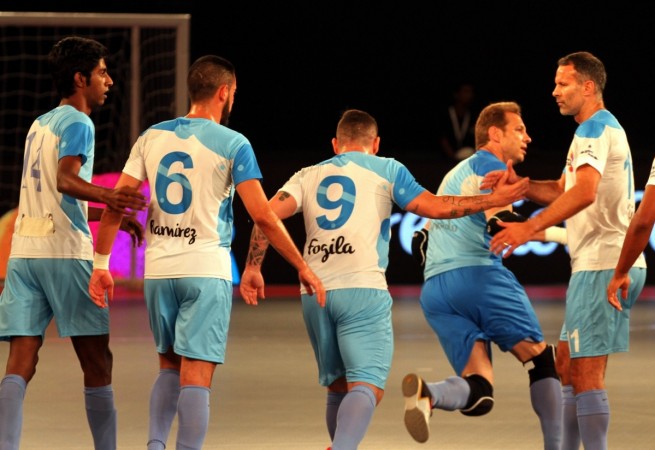 Ryan Giggs, Hernan Crespo, Michel Salgado or Cafu 1 who will prevail in the first-ever Premier Futsal in India? We will find that out when the top four teams of the competition lock horns in the semifinals in Goa on Super Saturday.
Giggs' Mumbai 5s, Salgado's Kochi 5s, Cafu's Goa 5s and Crespo's Kolkata 5s remain the last four teams of the tournament. In the first game of the evening, Mumbai take on Kolkata while the second game sees a crunch clash between the Goa and the Kochi side.
The first season of the blockbuster Indian Super League saw the battle between Kolkata side Atletico de Kolkata and Kochi side Kerala Blasters in 2014. It now remains to be seen if the Premier Futsal 2016 final sees a repeat of something like that.
Whatever be, one thing is for sure — that the presence of big players has increased the popularity of this unique tournament by huge levels. Manchester United legend Giggs, for one, is really happy to see the five-a-side football game get such a massive reception in India.
"There are number of reasons (for me to play in the competition). First I had never been to India before so I was quite keen to come to India. Also I like the concept, the legends (taking part), the Futsal players and also local talent," the 42-year-old told reporters on Friday.
"It is an education for them (Indian players). I think it is our job really to help young Indian players who perhaps haven't played this standard. They will eventually go up if they train hard and have the right coach," Giggs added.
Semifinals are always crucial and no one knows the importance of knockout games more than Giggs, who has won only two UEFA Champions League titles with United in his almost three-decade long club career. The Welshman has seen the Red Devils time and again exiting the prestigious European competition in the knockout stages and performing well in the semifinals holds major importance for him.
"Obviously every team in the semis [of the Premier Futsal] now has got a chance. It's knock-out," continued the 13-time English winner. "You have to make less mistakes. When you look at the four teams anyone of them can win it. All the teams had good performances."
Where to watch live
Mumbai 5s vs Kolkata 5s is scheduled for a 6:45 p.m. IST start on July 23, while Goa 5s vs Kochi 5s is scheduled for a 8 p.m. IST start.
TV listings in India: Sony Six, Six HD, Sony ESPN, Sony Aath (Bengali feed).
Live streaming: Sony Liv.