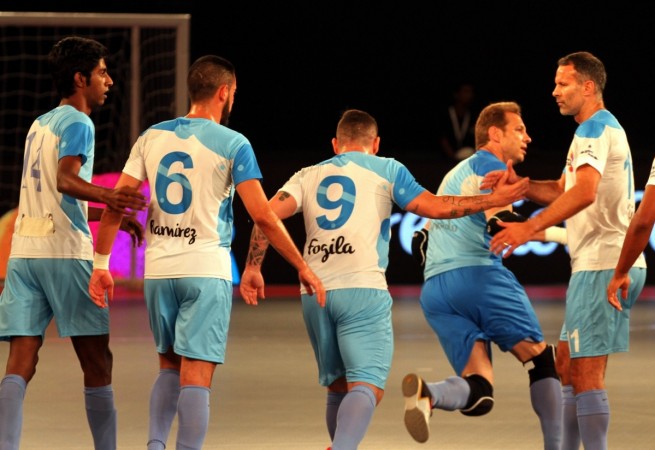 Falcao's Chennai 5s have a massive task in hand to join Ryan Giggs' Mumbai 5s as the other team from group A to qualify for the knockout stages of Premier Futsal 2016 in India. As of now, Kochi 5s, led by Michel Salgado, hold the second spot in the table, but a big margin win from the Chennai side on Thursday could see them become second in the group.
In the final day of league matches of the Premier Futsal 2016, Chennai take on Kochi at the Peddem Sports Complex in Goa. Only Mumbai have qualified to the knockout stages and any of the remaining five teams could join them as the other three sides in the semifinals.
Kochi are currently on four points with a goal difference of +3, while Chennai are on one point with a goal difference of -3. Chennai would have to score seven goals tonight and keep Kochi completely at bay to reach the knockouts. Almost a herculean task, but with the 'Pele of Futsal' Falcao at helm, nothing could be impossible for Chennai 5s.
Squad list: Chennai 5s: Falcao, Espindola, Rohit Suresh (both goalkeepers), Vampeta, Pula, Hemni, Manel Rion, Sean, Faraz Abdul Azzez, Yash, Younus Pasha, Anupam.
Kochi 5s: Michel Salgado, Casalone, Yashwant Kumar (both goalkeepers), Neto, Chaguinha, Deives Moraes, Gekabert, Emil, Muhammed Ameer, Basil, Ansh, Stalin Daniel.
Where to watch live
Premier Futsal is scheduled for a 7 p.m. IST (2:30 p.m. BST) start on July 21.
First game: Mumbai 5s vs Kochi 5s
Second game: Kolkata 5s vs Bengaluru 5s
In India, the action is live on Sony Six, Sony Six HD, Sony ESPN and Sony Aath (Bengali feed). Live streaming: Sony Liv.