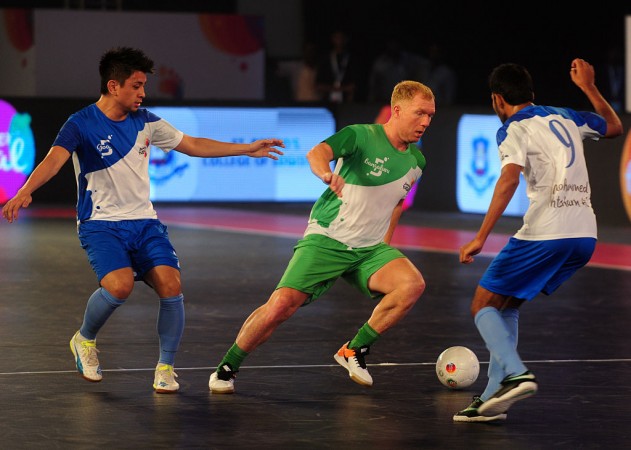 The first quarter of match 12 of Premier Futsal 2017 on Friday, September 22 saw Paul Scholes-led Bengaluru Royals play aggressively with 4 goals -- two each from Jonathan da Silva and Medeiros.
On the other hand, Chennai had only one goal on their side, scored by Monteiro. In second quarter, Bengaluru Royals further widened their lead by finding the back of the net twice, once by Renzo Grasso and the other by Raducio Iwan King.
The third quarter was a tight rope with neither teams allowing the other to score. Bengaluru's captain and star player Scholes attempted to score a few but missed them by a whisker.
Indian player Jonathan got the support of the entire stadium when he scored a goal in the 31st minute.
The Crespo-led Chennai Singhams attempted to make up for lost time towards the last quarter, where Ferreira and Marshall scored one goal each. However, Bengaluru were way ahead with 7 goals by then.
The match ended with the crowd cheering for their home team as they walked away with a stellar performance of 7 goals against Chennai, who scored 3.
Goal scorers: Chennai Singhams (3) – Bengaluru Royals (7)
Chennai Singhams: Maico Nunes Monteiro – 6th minute, Douglas Ferreira – 32nd minute , Fredsan Marshall – 40th minute
Bengaluru Royals: Jonathan da Silva – 4th, 8th minute, Petterson Gomes Medeiros – 6th, 7th minute, Renzo Grasso – 16th minute, Raducio King – 20th minute, Jonathan – 31st minute
Starting line-up
Chennai Singhams­ Starting line-up: Hernan Crespo, Angel Antonio Claudino, Maico Nunes Monteiro, Douglas Ferreira, Preetam Idnani
Bengaluru Royals Starting line-up: Paul Scholes, Petterson Gomes Medeiros, Jonathan Nascimento da Silva, Renzo Alfredo Grasso, Abhishek Ramesh
Points Table
| | | | | | | | |
| --- | --- | --- | --- | --- | --- | --- | --- |
| Standings | Team | P | W | L | D | GD | PTS |
| 1 | Bengaluru Royals | 4 | 3 | 0 | 1 | 12 | 10 |
| 2 | Delhi Dragons | 4 | 3 | 0 | 1 | 5 | 10 |
| 3 | Telugu Tigers | 3 | 3 | 0 | 0 | 5 | 9 |
| 4 | Mumbai Warriors | 5 | 2 | 3 | 0 | -3 | 6 |
| 5 | Kerala Cobras | 4 | 0 | 4 | 0 | -9 | 0 |
| 6 | Chennai Singhams | 4 | 0 | 4 | 0 | -10 | 0 |