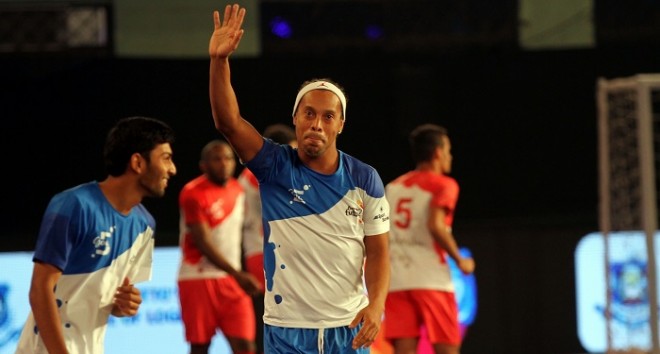 The much-anticipated Premier Futsal finally took shape in India, and the atmosphere in JLN Indoor Stadium in Chennai was remarkable on Friday. With marquee players like Ronaldinho, Hernan Crespo and Ryan Giggs, along with international futsal players, the Indian fans were treated to a major spectacle, and boy, did they love it.
With 12 goals scored in the opening day of Premier Futsal, which witnessed two matches, the fans were entertained to the core. There were plenty of 'oohs' and 'aahs' from the crowd when the stars came up with some stunning skills, nutmegs, and no look passes, basketball-like. Such skills were never seen in the country, and the fun has just started, which is expected to be multiplied in the days to come.
It was an ultimate experience for the spectators gathered in the indoor stadium as such futsal and football legends, along with freestlye players under one roof in India had never been witnessed before.
These stars were cheered on from the first minute they walked onto the pitch, and Brazil's Ronaldinho was easily the favourite player, who was making his threading passes in such format as well. Not to forget Giggs, whose touches were cheered loudly. There was great anticipation from the crowd when these players had the ball on their feet, and they did not disappoint with some silky touches and moves.
However, there must have been some disappointment for the Brazilian player's fans, whose team lost to Crespo's Kolkata. But the Italian wooed the crowd with his sublime turns, and even managed to score for his futsal team.
Sport lovers inside the stadium were up on their feet, cheering for other players as well, though the fans were just getting to terms with international futsal stars. And they did not need much time to know about players like Adriano Foglia, who was dancing with the ball on his feet with exceptional skills in the first match. The freestylers also added extra value to the competition.
The Premier Futsal has just started, and one can expect such brilliant atmosphere throughout the competition.