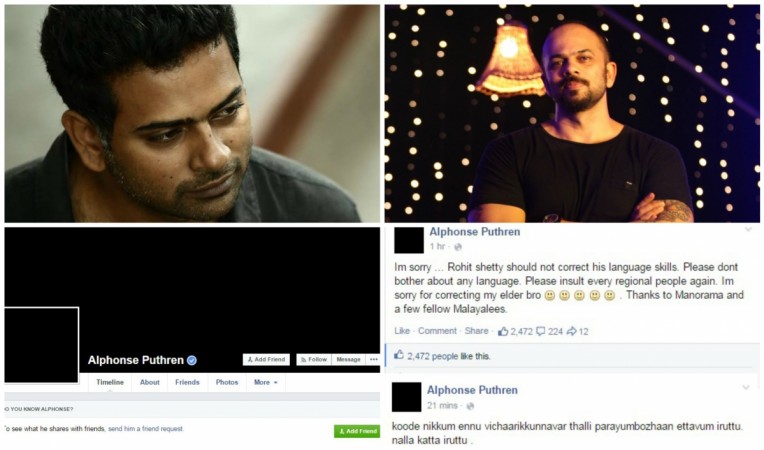 Alphonse Puthren, the director of the hit Malayalam film "Premam", has been in news of late for two reasons -- for directing one of the best films in the recent times and another for his open letter to Bollywood director Rohit Shetty.
After his controversial letter to Shetty went viral, Alphonse has now apologised for his statement in a very sarcastic manner.
Sai Pallavi - Malar of 'Premam's Dancing Videos Go Viral
He said that "elder brother" Shetty "should not correct his language skills" and can continue insulting other languages.
Alphonse has also mentioned how he is disappointed with many people, who he thought would stand by him but instead have critisised him.
Alphonse, who made his debut as a director with "Neram", had initially asked Shetty not to insult regional languages, with respect to Tamil language used by Deepika Padukone in the 2013 film "Chennai Express".
Check why Alphonse Puthren Wrote Open Letter to Director Rohit Shetty?
However, after a leading daily 'twisted' the director's statement reporting: "Alphonse asks Rohit Shetty to learn direction from his film Premam," the post went viral. Alphonse then slammed the daily by commenting on their official Facebook post.
I was planning to take a film named Maadhyamam ...don't make me take it. If you don't know to read english keep a good translator. Thank you
Did i complain about Anurag Kashyap or did I tease Farhan akhtar...I dint like the way he expressed tamil in Chennai Express. Tamil is the most oldest languages on par with Sankrit. So I give a damn. I dont know whether Manorama respects languages and knows to read english too. Thank you
While many of Alphonse's fans appreciated the director for his stand on the matter, there are many who are still criticising him for commenting on the Shah Rukh Khan starrer two years after its release.