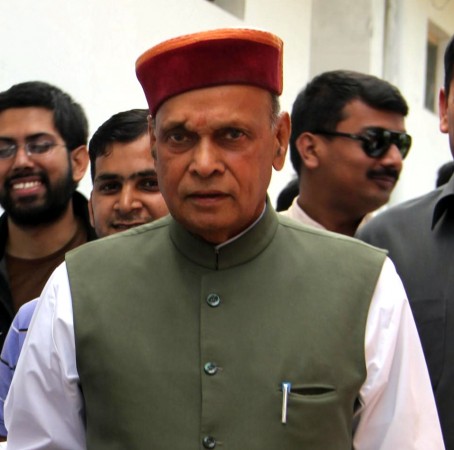 Prem Kumar Dhumal, BJP's chief ministerial candidate for Himachal Pradesh, was on Monday, December 18, trailing from the Sujanpur constituency, even as his party sat on a comfortable lead and looked poised to win the Assembly election.
Dhumal, as of 2.30 pm, was trailing by more than 2,900 votes to the Congress' Rajinder Rana. His defeat could leave a void in the state leadership of the BJP.
In such a case, the saffron party could lose yet another Cabinet-rank minister at the Centre, because its other choice for HP chief minister is current Union Health Minister JP Nadda.
It may be noted that Nadda would be the second Union minister this year to have been sent back to his state to be chief minister.
The first was Manohar Parrikar, who had to resign as Union Defence Minister in March after the BJP managed to cobble up numbers in Goa and stake its claim for government formation despite not winning the most number of seats in the state.
Now, in case Dhumal loses, Nadda is expected to come down and lead the BJP government in HP. How he will get elected remains to be seen, but there are a number of ways that can happen.
Significantly, Sujanpur is not Dhumal's original constituency, and Rajinder Rana — the person he is trailing — was once a protege of his! In fact, Rana was the head of the HP BJP's media advisory cell when Dhumal became chief minister in 1998.
However, the two had a falling-out of sorts in 2012, and Rana contested the Assembly election that year as an Independent. He went on to join Congress, and tried to contest the 2014 Lok Sabha election against Dhumal's son Anurag Thakur from Dhumal's pocket-borough Hamirpur, but lost.
Another interesting point to note is that Dhumal did not ask to be shifted from Hamirpur to Sujanpur. That decision was made by Nadda and BJP national president Amit Shah, with many speculating that this was part of Shah's plan to make Nadda the next HP chief minister.