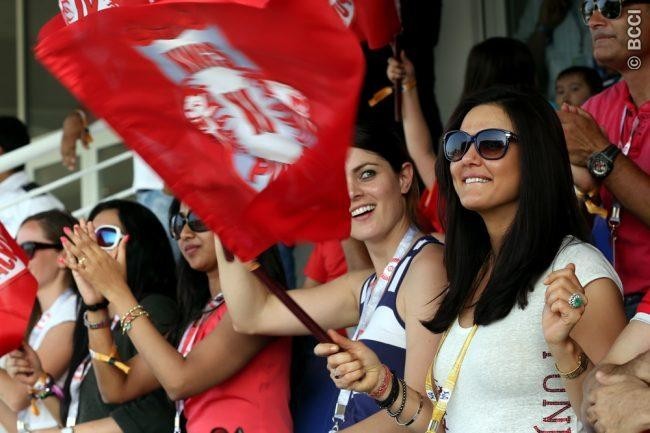 The fight between Perity Zinta and Ness Wadia that has been making headlines over the weekend was primarily triggered by an argument stemming from who should occupy the front row seats at the Wankhede stadium's VIP Pavilion.
The row escalated into a face-off between Zinta and her ex-boyfriend, with Wadia insisting that he and his family members be seated in the front row, which was occupied by Zinta and cricketer David Miller's family, The Financial Express reported citing unnamed sources.
Having arrived at the Wankhede Stadium around 8:15 pm on May 30 as the match between Kings XI Punjab and Chennai Super Kings were already underway, the businessman and co-owner of the IPL Team, reportedly insisted that his family should be seated in the same front row. He even requested his team's Chief Operating Officer to vacate the seats but when Zinta was approached, she reportedly refused to vacate the row.
That was the moment when the reported insults were hurled at one another with both of them losing their cool. A dejected Zinta was reported to have then told the IPL chairman Ranjib Biswal about Wadia's behavior, but no official complaint was registered with the BCCI.
In her statement to the Maharashtra Police filed last Thursday, the 39-year-old actor had alleged that Wadia, apart from outraging her modesty, also abused and threatened her. She claimed that Wadia came up to her, grabbed her hand and used abusive words in front of all the spectators present there.
A case under sections 354, 504 and 506 (assault on a woman, intentional insult and criminal intimidation) of the Indian Penal Code was registered.
Immediately after Zinta's FIR, Wadia denied the charges and expressed his shock over the allegation. "I am shocked at the complaint and the allegations made against me are totally false and baseless," the 44-year-old said.
The actor subsequently issued a fresh statement in a Facebook post saying that people did not stand by her when she was insulted and abused by Wadia
"It saddens me that no one at work or around ever stood up for me in the past when I was abused and insulted publicly," an emotional Preity Zinta wrote on Facebook. "This time I was left with no option but to take this stern step as the incident happened in front of way too many people."
Zinta and Wadia parted ways after a five-year relationship in 2009, but continued with their professional relationship as co-owners of Kings XI Punjab.