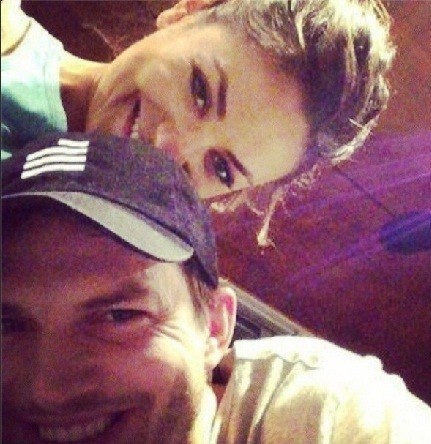 The break-rumors about Mila Kunis and Ashton Kutcher could be set aside for now, as the couple have more important things on their mind. Yes, burgers at The Counter. Pregnant Mila Kunis was spotted happily digging into a burger at the gourmet burger once again on Wednesday.
Who can say no to the hunger cravings of a pregnant woman? And for the first-time mother, Mila Kunis, this is the best time of her life to enjoy, all the perks of being pregnant, including the maniacal hunger cravings.
E!Online reported that the expectant star and fiancé Ashton Kutcher were spotted at the Studio City, California, gourmet burger chain for a second time in a row on Wednesday.
It is reported that the couple were either heading for a late lunch or an early dinner, as they arrived at the restaurant at around 4:30 pm looking famished.
Back on July 15, too, the couple had made a stop at the joint, famous for its burger specialites.
This is the second time this week, the couple engaged in spending some quality time, eating.
Break-up Rumors False?
For the fans of the celebrity couple, it is quite a relief to see the couple together in public being happy together.
Reports suggested that Kunis and the "Two and a Half Man" star Kutcher Kutcher may cancel their wedding, following a bitter spate during the World Cup.
Star Magazine carried a story the couple started having differences since the start of the FIFA World Cup 2014, reported Celeb Dirty Laundry.
Kutcher, a diehard football fan, had been indulging in heavy drinking. But things escalated when he decided to go watch the final in Brazil, it is reported.
"She told him that he'd better sell his World Cup tickets, because there was no way she was allowing him to go. He couldn't believe she would tell him that he couldn't go to an iconic event that only happens once every four years! So Ashton told Mila he was tired of her controlling his every move," the report quoted a source.
According to SMH, Kutcher was allotted a VVIP box for watching the world cup finals.