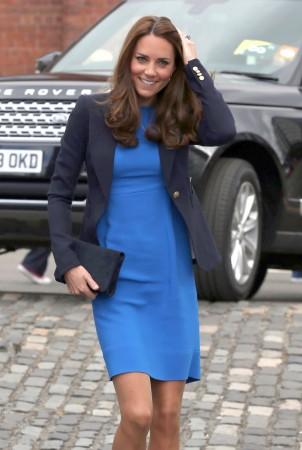 Kate Middleton may have to cancel her Malta trip according to reports. The Duchess of Cambridge is reportedly suffering from severe nausea due to her second pregnancy and has already cancelled her two royal engagements.
The Malta trip is apparently, an important royal assignation as Middleton is suppose to represent Queen Elizabeth but it seems her solo trip to the island is still undecided. This event has been defined as the seminal event for Middleton by the palace, reported Hollywoodlife.
It is also reported that Prince William could take the trip instead of Middleton.
Middleton missed an event at Oxford University and Invictus opening game ceremony in London, England.
The Duchess of Cambridge suffers from an acute form of morning sickness called Hyperemesis Gravidarum which may last for 10 weeks. It is a rare condition and few women suffer from this condition.
Many women, who could relate to Middleton's condition, have sent their sympathies through social media.
"I wanted to kill myself," said Kemp, a children's novelist to Huffington Post, adding, "My hyperemesis put my whole family -- and me -- through hell. It's a depressing and crazy-making illness."
Meanwhile, Middleton is eager to take the Malta trip but her doctors may not allow her.
"Kate is said to be eager to go, and her staff members at Kensington Palace are giving her as much time as possible before a final decision is made about traveling to the Mediterranean island Saturday. They are carrying on with the planning for the visit," according to palace sources as reported by People.
Middleton needs to take as much rest as possible, according to the reports and the author of Hyperemesis Gravidarum: A Definitive Guide, Caitlin Dean has suggested that it would come as a surprise if Middleton is allowed to take the trip in this condition.
"It's hard enough being in a car with this condition. A major part of managing the condition is making sure you are able to rest, and even if you can do short periods of being up and about, you have to rest afterwards," she told the magazine.
It may be recalled that Middleton suffered from this same condition when she was pregnant with Prince George.