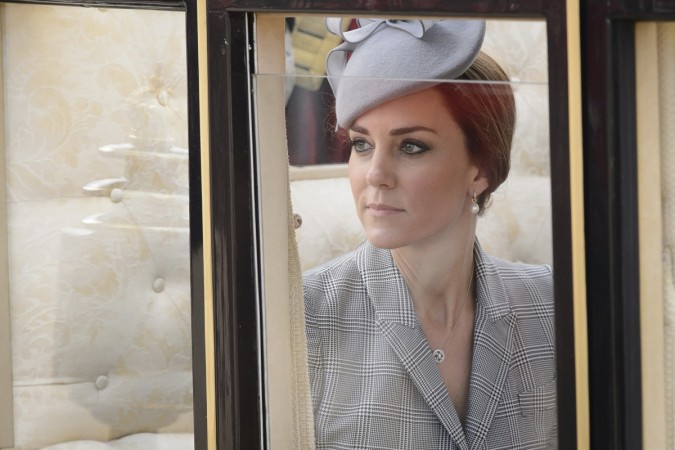 Pregnant Kate Middleton, who had axed all her official engagements after being diagnosed with an extreme case of morning sickness, returned to royal duties on Tuesday, and the Duchess had photographers clicking away when she nearly suffered a wardrobe malfunction.
Dressed in a crisp coat-dress, Middleton was present to welcome the President of the Republic of Singapore and his wife at London's Royal Garden Hotel, and the British winds blew up her ensemble, giving bystanders a view of the Duchess' black sheath.
The slim-fitting dress also gave royal watchers a glimpse of the royal baby bump, which has started blooming. Middleton is expected to give birth sometime in April, which means she is about four months along now.
The Duchess of Cambridge has been staying indoors since her second pregnancy was announced in September, and she joked with the President pf Singapore that she is finally glad to get out of the house.
"I've been looking forward to getting out of the house," Middleton joked. "It's a bit colder than when we last met," she said, referring to the royal couple's 2012 Asia-Pacific Tour.
Interestingly, this is not the first time Middleton has had gusts of wind blowing up her skirt. Similar incidents took place during her 2011 visit to Canada and last year's Australia tour, where her bare behind was exposed.
German newspaper Bild.de even published a photo of Middleton's dress being being blown up, with a tasteless report that read: "Thank the wind for the insight into the royal household.
"The royal helicopter rotor blades swirled up the air so that Kate's summer dress began blowing upwards – affording us a glimpse of her beautiful bum. Never have we been so thankful to a helicopter for creating such a wind."
As a result of this embarrassing incident, the royal family supposedly employed a "bum" guard whose job was to make sure that Prince William's wife suffered no more wardrobe malfunctions, according to the Daily Star.
A source explained at the time: "Kate will now be watched all the time. We can't afford any more embarrassing photos like this. The poor girl was snapped topless in France while on holiday and now someone has got a photo of her bottom. She needs more protection to spare her blushes."