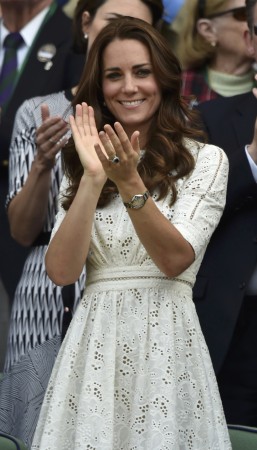 Kate Middleton reportedly thinks that someone is keeping a close eye on the day-to-day happenings of the palace. The reports have suggested that there is an over enthusiastic photographer or someone who is getting to know all the royal secrets.
"Middleton's paranoid that someone inside the palace is leaking her secrets. It's her worst nightmare," a source told Life &Style magazine.
Middleton and her husband Prince William recently issued a legal warning against a photographer who was chronicling Prince George's antics in a park in London. Neeraj Tanna was accused of carrying out "surveillance" and palace insiders had said that royals were "sick and tired" of being in the paparazzi's eye, according to a report by Telegraph.
Middleton and Prince William supposedly want to have a private life and this is the reason why they have moved to their countryside home Anmer Hall in Norfolk. The report added that the royal couple is taking required step to have a very private life.
"They're trying desperately to find out who's spying on them by giving out false information to different people. If any of that information comes out, they'll know who's responsible. Kate and William have vowed to do everything in their power to protect George. They will not rest until they find the spy," further said the magazine's source.
Middleton is currently staying at her mother Carole Middleton's place because of morning sickness following her second pregnancy. She is expected to make a public appearance during Singaporean president's visit on 24 october.
The Duchess of Cmbridge had earlier cancelled a slew official engagements, including her much-anticipated solo trip to Malta in September, due to her pregnancy complication.