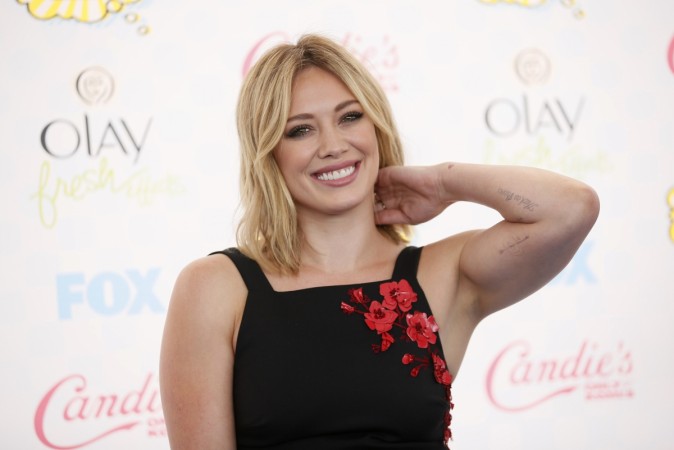 Loved-up couple Hilary Duff and Matthew Koma will soon welcome their first child together as the actress enters the last leg of her pregnancy. However, despite rumours of Duff and her musician boyfriend gearing up to tie knot, it's reported that marriage is nowhere on the cards currently.
Speculation about Duff and Koma being engaged started to make the rounds when the mother-of-one was seen with a simple gold band on her ring finger.
A source has revealed to E! News that the pair is not engaged and in "no rush to get married."
"They already feel married and don't feel they need a signed document to seal the deal," explains our insider. "They eventually do want to get married and have a ceremony but for now, are focused on their baby girl coming."
We hear that Koma is also a great step-dad to Hilary's son Luca, from her frist marriage.
"Everyone gets along great and it has been a smooth transition," the source added. "Luca has been overly excited since day one of this pregnancy and is starting to understand more of what is about to come. He is very anxious for his baby sister to come and is always talking about her."
Both Luca and dad-to-be Koma were part of Hilary's heart-melting pregnancy shoot which she shared on Instagram.
The insider further went on to reveal that the family is super-excited about the baby's arrival, as for Hilary, "she's so excited to welcome a girl into the family and knows how great of a dad Matthew going to be. He already calls the baby his 'little princess' and Hilary has fallen in love with him even more during this process."
"The boobs are big the belly is big the body is big. Man.. pregnancy is hard," Duff's mirror selfie caption read.
"Giving love to all mamas who make it look effortless... this journey is hard as hell and also incredibly special. Lovely to have a little life inside and to day dream of all the new adventures to come buuuut almost impossible to get my own shoes on... sick of getting up 9 times a night to pee and looking at this weird body in the mirror that is not my own at the moment," Duff continued.
"Women are so bad ass, this was just a note to remind myself and remind others how's strong and beautiful you are! WE GOT THIS!" Duff wrote.