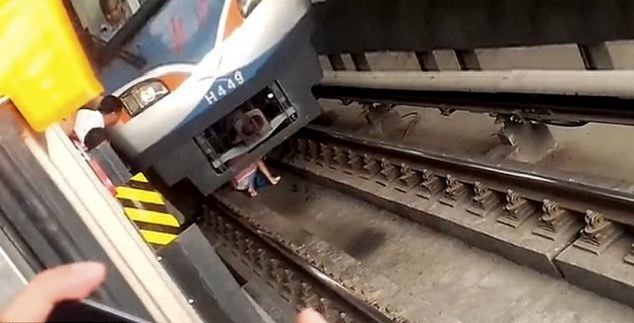 A pregnant Chinese woman has had a miraculous escape, after she fainted and fell on a subway track when a train was entering the station.
Yue Yan Mai, who is understood to be at least five months pregnant, was waiting for the train along with other commuters on Line 13's Huoying Station, the People's Daily Online reported.
The train was barely meters away when she lost consciousness and fell right in between the tracks. However, the driver quickly pressed the emergency brakes and managed to stop inches from crushing her.
The 31-year-old sustained minor injuries on the back, after the front part of the train passed over her. The incident took place during rush hours.
In a YouTube video, taken by one of the passengers at the station, an alarmed crowd is seen looking at the crouching figure of the pregnant woman as many thought she would be crushed.
But then Mai is seen crawling out from under the train slowly.
As the employees cut off the power supply from the tracks, Mai, who looks a little shaken and dizzy, tries to calm herself, after which she is pulled out off the track by the commuters.
As per the report, the woman was then rushed to a local hospital, where she was given a first aid, while doctors checked the well-being of the unborn child. The unborn baby was understood to be fine but Mai was kept in the hospital for observation as a precaution.
The local authorities praised the presence of mind of the train driver, who swiftly took action to avert the accident, saving two lives in the process.
Mai later told the media that she felt tired as she waited for the train.
"I'm a bit unsteady on my feet because of the pregnancy which sometimes leaves me feeling a bit ungainly," Herald Sun Mai quoted her. On hearing the sound of the approaching train, she leaned out and "toppled over".
"I just can't decribe the fear that gripped me, when I found myself on the track," Mai added.