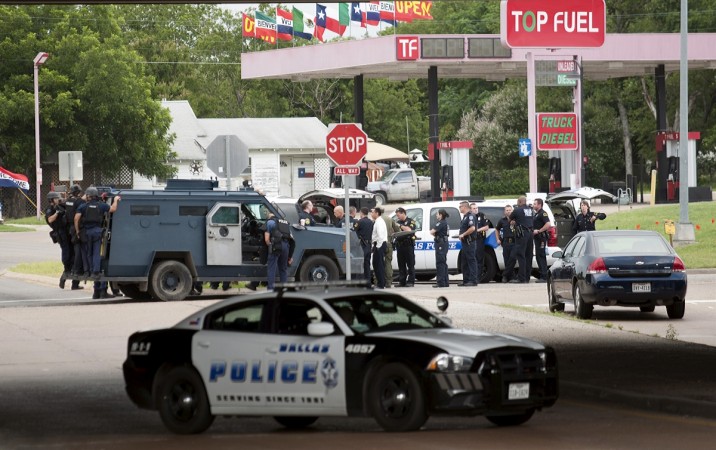 All of America was shocked to learn that five police officers were shot and six other were injured on Thursday night at the protest against the killings of two African-American men.
Many were disheartened to see that a few men chose to answer the death of Alton Sterling and Philando Castile with more violence.
Many celebrities have joined hands with the rest of America in their prayers for the dead and the hope for a better future.
Stars like Demi Lovato, Don Cheadle, Kumail Nanjiani, Anna Wood, Frankie Grande and John Legend are heartbroken to see that violence is being answered with more violence and reminds everyone that eye for eye would just make the whole world blind.
Here are some of the most touching messages that celebrities have shared on social media:
#PrayingForDallas #PrayingForPeace

— Demi Lovato (@ddlovato) July 8, 2016
My heart hurts. God help us. — Demi Lovato (@ddlovato) July 8, 2016
It all seems so unfixable. People make their stances stronger. The divide grows. Political, racial, geographic, religious. The divide grows.

— Kumail Nanjiani (@kumailn) July 8, 2016
This country is gun sick — Andy Richter (@AndyRichter) July 8, 2016
These Dallas shootings are horrific. Killing these officers is morally reprehensible and completely counterproductive to keeping us safe.

— John Legend (@johnlegend) July 8, 2016
OMG CAN WE ALL PLEASE STOP SHOOTING EACH OTHER!?!?!?!?!? — Frankie James Grande (@FrankieJGrande) July 8, 2016
As @POTUS said re: race and police: "People of good will can do better." Let's figure out how. #Dallas

— Katie Couric (@katiecouric) July 8, 2016
One step forward, ten steps back. The point is to save lives not trade places. https://t.co/46Nfg4VyUm — Trevor Noah (@Trevornoah) July 8, 2016
We all seem to want the same thing and yet the only way we know how to get it is by taking it away from someone else.

— Trevor Noah (@Trevornoah) July 8, 2016
3 dead and 10 wounded!? God help us! "An eye for an eye will make the world go blind." #Dallas — Trevor Donovan (@TrevDon) July 8, 2016
The unending heartbreak on the news is just beyond devastating & infuriating. I'm at a total loss. #AltonSterling #PhilandoCastile #Dallas

— Mandy Moore (@TheMandyMoore) July 8, 2016
What is going on America? — Danielle Brooks (@thedanieb) July 8, 2016
Only an idiot or a deranged person thinks "justice" means execute ppl in the streets. Are you one of those? https://t.co/1dBRhUR93U

— Don Cheadle (@DonCheadle) July 8, 2016
"What's going on?" Hundreds of years. In America. This has been happening for HUNDREDS of years. Cell phones just make it harder to ignore. — Leslie Odom, Jr. (@leslieodomjr) July 7, 2016
"I have decided to stick with love. Hate is too great a burden to bear. " -- Martin Luther King Jr.

— Donna Brazile (@donnabrazile) July 8, 2016
Stay safe, Dallas. — Jack Falahee (@RestingPlatypus) July 8, 2016

Those who hate us and fear us cannot bring us down.
*looks around.*
I love you. Good night.

— Lin-Manuel Miranda (@Lin_Manuel) July 8, 2016