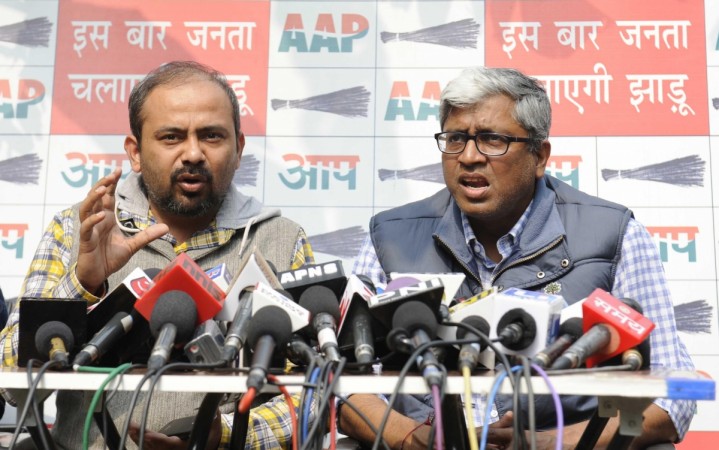 Adding to the internal conflict within the party, Aam Aadmi Party (AAP) leader Ashutosh has claimed that Prashant Bhushan had once threatened to destroy the party if Arvind Kejriwal did not resign from the post of national convener.
"Around August-September Prashantji wrote to Arvind in strong words that he will hold a press conference and destroy the party if he does not resign and Yogendra Yadav is not made party convener," Zee News quoted Ashutosh as saying.
He claimed that party rebels Yadav and Bhushan were planning to remove Kejriwal for a long time and wanted AAP to lose the Delhi assembly elections.
"We didn't want this issue to go into public, but efforts were being made to remove Arvind from convener's post," Ashutosh said.
"Prashantji and Yogendraji came to his house and it was unanimously decided later in national executive meeting that Arvind can take decisions till Delhi polls. I was told by Ashish Khetan and some other party members that Prashantji is openly saying that AAP should not at all win Delhi polls," he added.
A series of revelations were made by AAP Delhi unit convenor and Kejriwal's confidant Ashutosh in his book 'The Crown Prince, The Gladiator and The Hope'.
Citing another incident from the past, Ashutosh said that disappointed with and hurt by the growing differences within the party leaders, Kejriwal had offered to quit during a meeting in June last year at Bhushan's residence.
"Arvind's face fell. He rose and excused himself to leave the room. He started to say something but could not complete. He broke down and as tears fell unheeded he crumbled to the floor," PTI cited an excerpt from Ashutosh's book, reported NDTV.
"Anjali (Damania, AAP leader from Maharashtra who unsuccessfully contested against Gadkari) and I (Ashutosh) rushed to him. She put her arms around him and rushed to him. Soon Anjali began crying as well and shouted. 'We should all be ashamed of ourselves. This is what we have given him. After some time Arvind regained his composure. By now everyone had gathered around him.
'I have not left my job and other good things of life just to become a convenor of the party. I don't want this. Please elect someone as the national convenor'. And his eyes welled up again," Ashutosh wrote in the book.