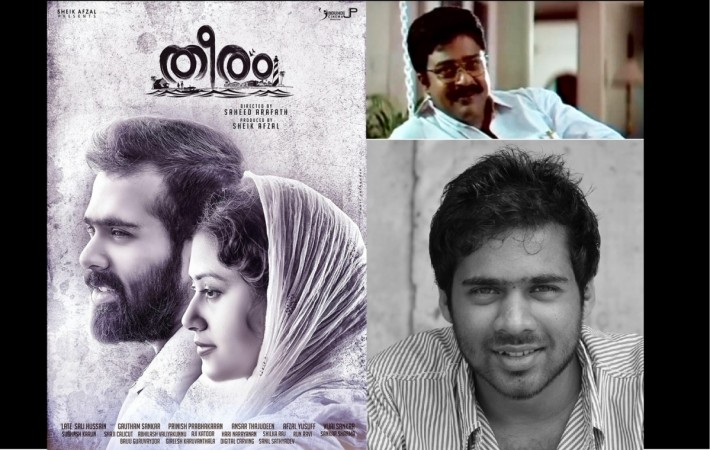 After Padmaraj Ratheesh and Parvathy Ratheesh, Pranav, who is the youngest son of late versatile actor Ratheesh, is all set to make his mark in the entertainment industry. The young actor makes his acting debut through Saheed Arafath's upcoming Malayalam movie, titled Theeram.
Though not much was known about the project until now, it suddenly came into the limelight after the makers released the official trailer. And now, netizens cannot stop raving about it. The film also features Ratheesh, as it begins with visuals of the late actor's iconic role of Mohan Thomas from the superhit movie, Commissioner, that is being watched on television by Pranav's character. The trailer also features Maria Yohannan, Askar Ameer, Tiny Tom, Krishna Prabha and Nandan Unni, among others.
When asked about the storyline of Theeram, director Saheed opened up to International Business Times, India.
"The movie is a simple love tale narrated in the backdrop of Alappuzha. Pranav plays Ali, who drives an autorickshaw at night, and falls in love with Suhra, a Muslim girl working in a local food company. The love story of these two down-to-earth people unfolds after they meet accidentally. Tiny Tom plays the antagonist and his intriguing character brings serious plot developments in the movie. The film also stars Askar Ameer, who is the brother of actor Ajmal in a significant role."
The director pointed out that he found Pranav, who resembles Ratheesh through a few mannerisms in the trailer, to be a very talented actor.
Despite being a small-budget movie that has not been promoted too much, the trailer of Theeram seems to have impressed the audience. At the time of reporting, the video was trending on the top 15th position on YouTube India with over 1.2 lakh views within a day of hitting the internet. "The movie has been made with the support of many friends and well wishers, and Pranav was a blessing for our small movie," Saheed told IBTimes India.
Watch the trailer of Theeram here: