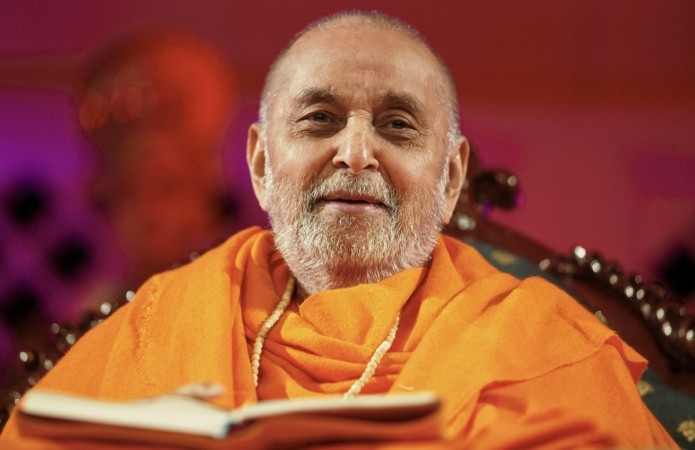 The U.S. Democratic presidential hopeful, Hillary Clinton on Friday said that Pramukh Swami Maharaj, the spiritual head of the Swaminarayan sect, built a faith and community which was global and was founded on Vedic values.
Giving a condolence message for the spiritual leader who passed away last week, Clinton said, "Pramukh Swami didn't just teach virtues he lived them every day. That is what made him a Guru to millions of devotees around the world. From the Akshardham Mandir in New Jersey to the countless temples that he blessed in the U.S., Pramukh Swami built a global faith and community founded on Vedic values."
Clinton also said that her husband Bill Clinton was very fortunate to have met the Guru twice, in the U.S. and also at the Akshardham Mandir in Gujarat. She added that Pramukh Swami spent his life revitalizing the communities in need and promoted peace not only in India and the U.S., but also all over the world.
"His example helped his followers find more harmony both with others, and within themselves. And we hope that humanity will build upon his legacy for generations to come," Clinton said, ending her message with 'Jai Swaminarayan.'
In memory of the Bochasanvasi Akshar Purushottam Sansthan (BAPS) leader, a U.S. flag was flown on the U.S. Capitol on Wednesday, the Architect of the Capitol Stephen T Ayers said.
Many U.S. politicians and leading figures, including Utah Governor Gary R Herbert, Illinois Governor Bruce Rauner and Senator Cory Brooker paid their respects to the spiritual leader.
"Pramukh Swami Maharaj leaves a legacy that we can all aspire to and a thriving BAPS community that will not be the same without him. His selfless services to society, impeccable commitment to the community, and profound devotion to faith earned him the respect and reverence of countless worldwide," said Senator Cory Booker from New Jersey.