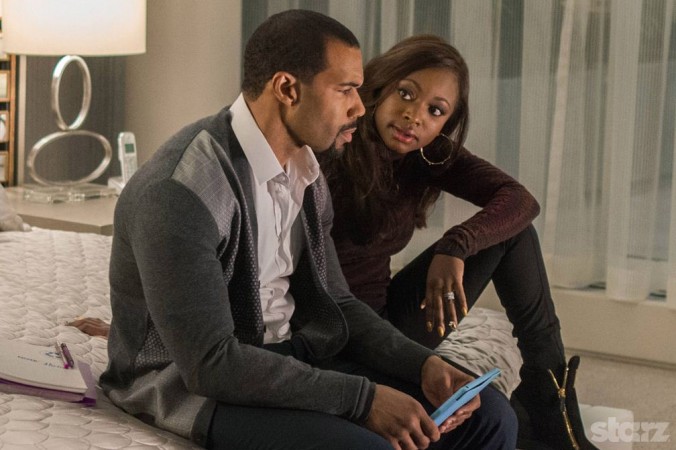 "Power" fans have been waiting impatiently for the return of the Starz show since the Season 2 finale on Saturday, Aug. 15. Although there is still no official date for the premiere of Season 3, it has been promised to return in June 2016.
Starz had released a Youtube video from the sets of Season 3 on Oct. 10, 2015, where Courtney Kemp Agboh and the entire cast of "Power" are seen shooting for the upcoming episodes. Everyone expressed their excitement to be back on the sets in New York City.
A few days ahead of that, lead actor Omari Hardwick, who plays the drug lord Ghost, had tweeted back, "Day 1 down. Bout 160 to go..." When calculated, this date falls on June 6, 2016, which is a Monday. Considering the show airs on Saturdays, we place the premiere date of "Power" Season on June 4.
The show's Executive producer 50 Cent, who plays Ghost's adversary Kanan, announced on Instagram that "Power" would return in June.
Season 3 is definitely going to present a difficult time for Ghost, possibly pitting him against everyone else. Fans will remember that bloody spider card he found on his desk in the Season 2 finale. While the identity of the sender remains a mystery, fans know enough about "Power" to know that it is definitely not a good sign.
Also Read: What is in store for Hakeem Lyon in "Empire" Season 2?
Ghost is now completely alone, with even his partner-in-crime Tommy (Joseph Sikora) having decided to go solo in "Ghost Is Dead." There is the possibility that Tommy might even join hands with Lobos (Enrique Murciano) and try to kill Ghost.
Meanwhile, Tasha (Naturi Naughton) will be devastated after learning that her prediction about Ghost leaving her for Angela (Lela Loren) was true. She also believes that Ghost is the one that killed Shawn (Sinqua Walls), and will most probably try to avenge him.
Her best bet would be to join any one of the increasing number of Ghost's enemies and be helpful while they kill him for her. The most likely candidate for the alliance would be Tommy, considering how close they are.
Do not forget to check back here for more updates and spoilers regarding the upcoming Season 3 of "Power."