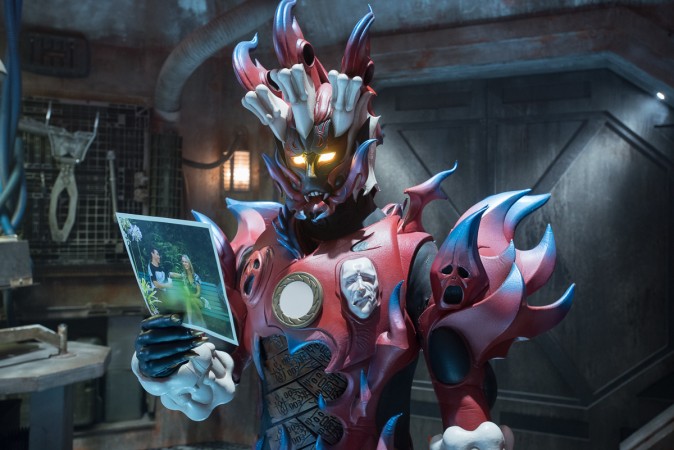 After the T-Rex Super Charger goes haywire, Tyler (Red Ranger) loses control and destroys everything in sight in the upcoming episode titled "Roar of the Red Ranger" of "Power Rangers Dino Super Charge."
To watch how the malfunction happens and whether the other Ranger are able to stop the Red Ranger, CLICK HERE.
The synopsis of the episode reads: "Tyler tries to master the new T-Rex Super Charge Mode, but after Heckyl plants a virus in Kendall's computer, the T-Rex Super Charger malfunctions and makes Tyler go wild. Luckily, the Aqua Ranger is able to step in before it's too late."
Tyler has been looking forward for a long time to learn the skills of the T-Rex Super Charge Mode. However, when he finally decides to try it, things go out of his hand and he finds himself unable to control his moves.
Even though the other Rangers try their best to stop him and disable the mode, they are not too successful, until the Aqua Ranger shows up and helps them. How Aqua Ranger and the others put a stop to the Red Ranger will become apparent once "Roar of the Red Ranger" airs Feb. 27 on Nickelodeon.
In the previous episode titled "A Date with Danger," Chase tried to impress his new girlfriend Kaylee by showing how talented and accomplished he is. However, when it became more about him and less about her, Kaylee started to have feelings for the Black Ranger instead.
Chase was desperate to make Kaylee realise how amazing he is and in order to do so, he showed her his talents and boasted about his achievements, trying his best not to reveal to her he is one of the Rangers.
However, despite all his attempts, Kaylee started to have feelings for the Black Ranger, oblivious to the fact that Chase and the Black Ranger are the same person.