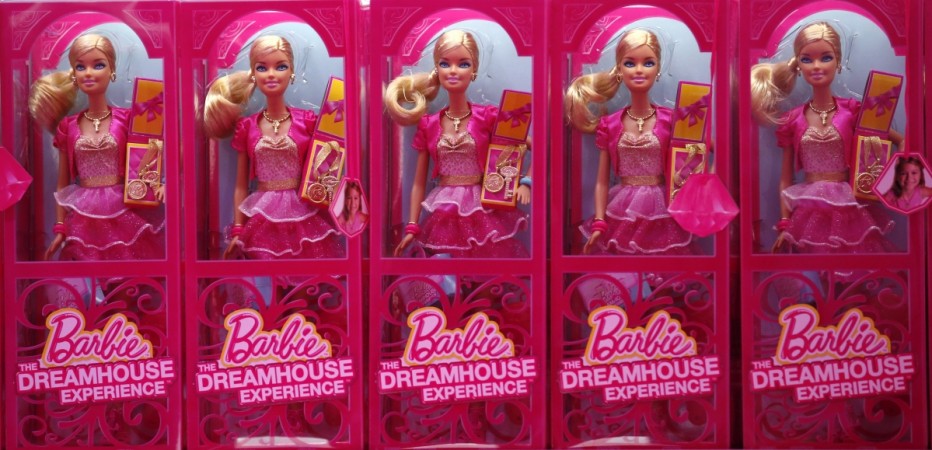 With her pink dresses, dream house, boyfriend Ken and little sister Kelly, Barbie doll was the figurehead of the fashion doll market for over fifty years. However, since the last few years, it seems like America's sweetheart can't keep out of trouble.
Starting with the concern that the stick-like figure of the doll promotes an unhealthy body image among impressionable young girls, Barbie has been the subject of numerous controversies over the years and now, a foul-mouthed model of the doll has angered a young mother by blurting out "What the F**k".
Talina Evans, a 25 year old mom from Caernarfon, North Wales was shocked to hear her seven- year-old daughter Demileigh's Barbie doll scream "what the f**k" after singing "Get your sparkle on.." and saying something inaudible. Evans said that her daughter wanted the talking Barbie for a while and was immediately captivated by it. "She loved it and has been playing with it constantly ever since," she said.
The potty mouth Barbie has several voice-activated buttons on her belt and says 15 phrases including "amaze', "I love a make-over", "there is no substitute for glitter" and "to the salon", the Telegraph reported.
When Evans took the "swearing Barbie" back to the Home Bargains store where she bought it and demanded an explanation, she was told that the store could not help her as she no longer has the receipt.
The potty mouth Barbie has now been taken away from her daughter. "We just told her that the doll had been bad and was swearing so it had to go. She was disappointed, of course, but she understood that it is wrong to swear and so the doll had to go," Evans explained.
"I think it's very irresponsible of the toy company - they know that children are going to be playing with these toys," Evans complains.
Some say that the doll is actually programmed to say "Off the hook", which is being misheard as swearing "what the f"ck" due to an unfortunate sound problem, but Evans is certain that the swearing doll is dropping the f-bomb. "I'm not the only one who has heard it. You can hear it loud and clear, it definitely says 'what the f**k", she reiterates.
A spokesperson for the Barbie manufacturing company, Mattel, has confirmed that an investigation had been launched into the swearing doll.
Watch the video of the swearing Barbie blurting out the phrase "What The F**k!":