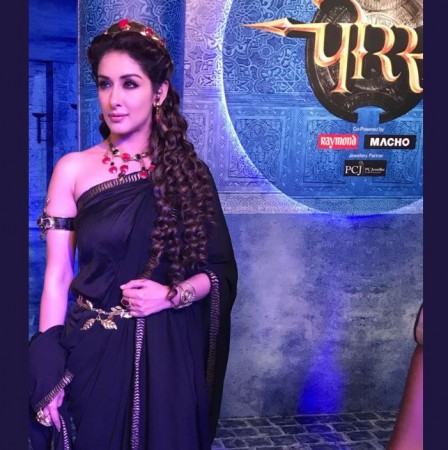 Sony TV's Porus has been generating huge buzz owing to its stellar cast and for being the most expensive project in Indian TV industry.
The show revolves around Porus — the king of Pauravas who fought with Alexander the Great in the Battle of the Hydaspes.
It is set around 350 BC, when India was one of the richest nations in the world and Alexander tried to invade the country. He was stopped in his tracks by Puru — whom Greek documents from the time refer to as Porus.
Porus: Things to know about Sony TV's Rs 500 crore historical show [VIDEO]
The concept itself is interesting, and it seems the makers are leaving no stone unturned to make the show a success.
Sameksha Singh, who plays the role of Olympias on the show, recently turned bold for the show. The actress bared her back and even dared to get drenched in the rain wearing sheer clothes in one of the promos.
Explaining the need to sport such clothes, the actress told the Times of India: "Porus is a historical show and in ancient times, people didn't use innerwear. The sequence required me to be all wet in white sheer clothes."
Meet the war bride who personified strength and courage through her actions, mother of Alexander the Great, Queen Olympias! Unravel her story on #Porus, from 27th November every Mon-Fri at 8:30 PM only on Sony Entertainment Television. pic.twitter.com/WImFQzLHQm

— Sony TV (@SonyTV) November 20, 2017
Sameksha further said she was ready to shed her clothes if the character demanded it.
"Boldness is not only about skin-show... an actor has to bare his or her soul in front of people. It's not about comfort, it's all about what your character demands. If my character demands me to walk nude, I will. I didn't think twice before doing these scenes because my producer-director Siddharth Kumar Tewary had the character perfectly etched in his mind. Olympias' pride and belief in herself is shattered, it doesn't matter to her if she is clothed or not," she said.
The majestic serial, which will go on air from Monday, November 27, at 8:30 pm on Sony TV, has Lakshya Lalwani playing the role of Porus while Rohit Sultan essays the role of Alexander.
Others who are a part of the historical show are Rati Pandey, Aditya Redij, Praneet Bhat and Ira Dubey.