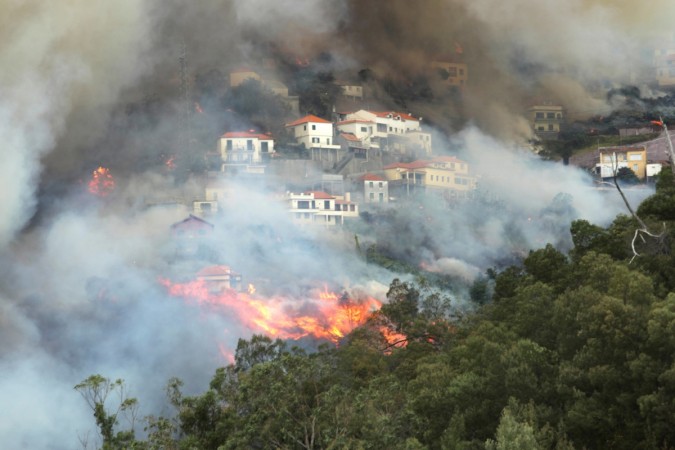 A major forest fire broke out in Portugal's Madeira Islands on Tuesday, Aug, 9, which forced the evacuation of over 500 people from their homes and hospitals. The wildfires, which have been raging on for several days in the Portuguese mainland, is now under control and cooler temperatures expected on Wednesday will help put it out completely.
It is understood that at least 27 homes are left uninhabitable following the natural calamity and that at least one person has suffered severe burns, while many others need treatment due to inhalation of smoke. According to the National Civil Protection service, 26 water-dumping planes and 1,262 vehicles helped douse 149 blazes of varying sizes across the country with the help of over 4,000 firefighters.
It is understood that the high winds fuelled the flames which fed on the dry wood in Madeira's steep hills and dense woodland. The topography also made it difficult for the firefighters to douse the flames. It is understood that at least eight Madeira firefighters are seeking medical treatment after inhaling the smoke.
People from across the world sent out prayers to Portugual with the hashtag #PrayForPortugal. Some also shared devastating photos from the scene:
Deus proteja todas as vidas em Portugal #PrayForPortugal pic.twitter.com/ptoUgosKbB

— thiago (@normanizzr) August 10, 2016
Over 500 active fires. So heartbreaking Please pray for everyone, especially the firefighters #PrayForPortugal pic.twitter.com/cWmEhtlAPC — Samanta Darko (@SamantaDarkoEN) August 10, 2016
#PrayForPortugal Look what is happening. This is so sad pic.twitter.com/4LxuemfS1S

— Hadley (@HadleyJerome15) August 10, 2016
Omg! Wildfire in Portugal right now. Stay safe, dear friends. #PrayForPortugal pic.twitter.com/N6bewoMuz1 — Hannah Pagaragan (@HansunIlona) August 10, 2016
independente de qualquer briga nos brasileiros estamos mandando energias positivas para portugal #PrayForPortugal pic.twitter.com/rgu9rf3lC3

— izabela (@reinopjo) August 10, 2016
Important historical sites in Madeira are being destroyed right now. People are losing the memories of a lifetime. #PrayForPortugal — Gi (@wiiidae) August 10, 2016