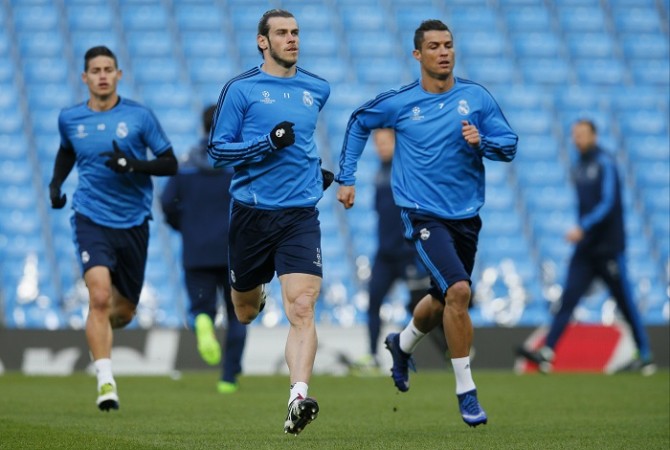 Cristiano Ronaldo vs Gareth Bale, Portugal vs Wales – on paper this match looks like a tasty Euro 2016 semifinal encounter, filled with players who can change the course of the game with a bit of magic. The reality might be something different, however, especially going by Portugal's performances so far in this tournament.
While most big games end up being cagey matches, with neither really ready to take that first big, bold step, there are a few which turn out to be absolute classics. This semifinal might not be as high profile as the Germany vs France one on Thursday, but in Ronaldo and Bale, there are a couple of the outstanding players in the world today on view.
Expect them to turn the game in their country's favour come Wednesday in Lyon.
Here is a prediction of how the Portugal vs Wales Euro 2016 semifinal might turn out.
First half: A little slow to start with, as both teams play safety-first football. But, just like that, on 11 minutes, the match turns in the blink of an eye. Gareth Bale makes a surging run down the right, he cuts inside to get the ball onto his favoured left foot, takes a strike with some venom, which is saved by Rui Patricio. But, Jonny Williams, a replacement for the injured Aaron Ramsey, is on hand to turn the ball in on the rebound and give Wales a 1-0 lead.
Portugal are now forced to come out and play, and Renato Sanches, immediately, starts to have an impact, driving forward with his pace and power. Ronaldo comes into the picture as well, as he takes the shoot-on-sight approach, most of which are well off target or blocked. One of those shots, however, force Wayne Hennessey into a save and Portugal win a corner. From that corner, Ronaldo brings his Michael Jordan leap into play to power a header onto the crossbar. The chance is not gone though and the ball pings around a little before falling for Nani, who slots the ball into the net through the crowd to draw Portugal level, with the score remaining 1-1 at the end of the first half.
Second half: Portugal start strong, as Ronaldo finds space up front, with Joao Mario missing a really presentable opportunity. Off that miss, Wales punish Portugal as they spring on a quick counter-attack, with Neil Taylor, on the left, eventually picking out a cross for Bale to volley home in some style.
Ronaldo looks distraught at the concession of a goal, throwing one of his tantrums on the pitch, but soon after he is back in let's-equalise mode, with shots raining in left-, right and centre on Hennessey's goal. The more Portugal attack, the more spaces open up at the other end for Wales, and just like that Bale has his brace, completing a wonderfully-crafted counter-attack.
The Portugal captain makes it 3-2 at the other end in the space of a few minutes, but finding another goal proves to be beyond even Ronaldo's reach as Wales make history.