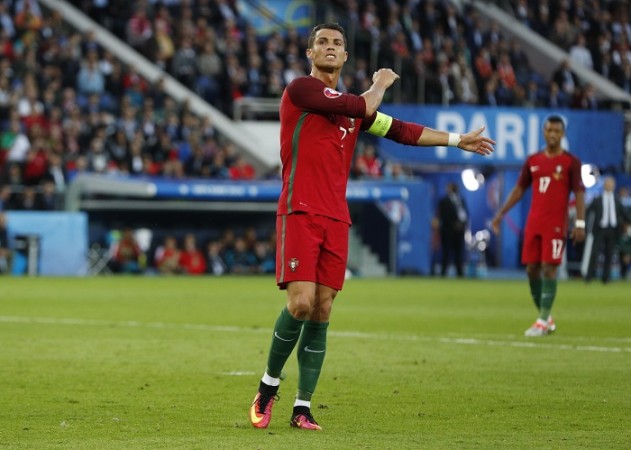 In another attack vs defence match for Portugal, Cristiano Ronaldo and the rest of his teammates left their scoring boots back at the hotel to give Austria a point they scarcely deserved from this Group E Euro 2106 match at the Parc des Princes. With shot after shot, chance after golden chance, and even a penalty, raining in, Portugal should have really won this match 3-0, if not more, but instead, they fluffed their lines, and with it failing to win their second straight match of the tournament.
Following a 1-1 draw with Iceland, when Ronaldo termed their opponents a "small" team for staying back and defending, much was expected from this match, with Austria expected to give as much as they got.
However, this game was all about Portugal and the chances that they missed, with Ronaldo leading the way in that department. When it mattered most, Portugal's main man just could not find the target, even missing a penalty in the second half. Austria, for all their success in qualifying, have struggled to make their presence felt in this Euro 2016, and this match was no different.
The game actually started well enough for the Austrians, with the team going for that high press and making it really difficult for Portugal.
For the first 5-10 minutes it looked like we might have a really even game, but once the game settled, there really was only one team in it.
It was all Portugal in their last match as well, and the reason behind their failure to take all three points was a lack of finishing. It wasn't different this time around as well as the likes of Ronaldo and Nani spurned chance after chance, failing to turn that dominance and territorial advantage into goals.
Nani had a couple of splendid opportunities to make it 1-0 to Portugal, with the first one coming when he forced his way past Sebastian Prodl, only to see his shot brilliantly saved by Robert Almer. The second was even better and one he really should have put away, with his header, off a setpiece, hitting the near post, instead of the back of the net.
In between those two chances, with the clock just turning towards 20 minutes, Ronaldo was left with anguish written all over his face, as the Real Madrid superstar failed to get his body around enough to sidefoot the ball into the corner.
Ronaldo would then have more reason to be annoyed when a couple of saves from in the space of a minute Almer piled on the misery. The first was a fabulous one with his left hand, diving down and at full stretch to keep a rasping left-footed shot from Ronaldo out. Off the corner, Ronaldo sprung high to head the ball down, only to see Almer placed perfectly again to swat the ball away.
As the frustration grew, Portugal were handed a massive lifeline when Martin Hinteregger decided to bring a bit of amateur wrestling into play, bringing down Ronaldo inside the box as a cross came in, with the referee correctly pointing to the spot. Perfect opportunity then for Ronaldo and Portugal to grab the right headlines, but the ball just would not go in, as the captain struck the base of the post to his left, despite sending the goalkeeper the wrong way.
And when it did go in, a few minutes later, via a terrific header from Ronaldo, the goal was ruled out for offside, correctly too, to pretty much sum up Portugal's evening in Paris.
Meanwhile, in the earlier Group E game, Hungary scored a late equaliser to salvage a point against Iceland. In a game that Hungary utterly dominated, they needed an 88th minute own goal from Birkir Saevarsson to cancel out Gylfi Sigurdsson's 40th minute penalty.
Hungary lead Group E with four points, with Portugal and Iceland on two each, while Austria have one, meaning anything is possible going into the final round of matches next week.