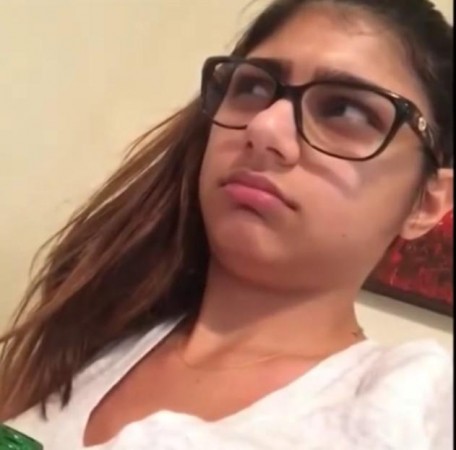 Speculations are rife that Pornhub star Mia Khalifa, who angered jihadists after she indulged in sexual acts garbed as a Muslim, could be leaving the porn industry.
According to a recent Gossip Extra report, which described Khalifa as a "fading star", the porn star could either be "growing up and getting domestic", or she could be "just reduced to working for food".
Khalifa reportedly set up an Amazon.com registry earlier this year where her fans could send her gifts, and some of the things she desire for are Veuve Clicquot ($60), Dom Perignon ($175) and caviar ($62). The latest additions include a ravioli stamper ($13), gnocchi board ($5) and Keurig K-cups and pasta drying rack, the media outlet reported.
This is what has sparked rumours that her stint in the adult entertainment industry could be coming to an end.
Interestingly, Khalifa's interest in the food industry and latest food trends is well documented. Back in July, she took to Twitter saying that she is a fan of "dausage" -- a cross between a sausage and a donut. Khalifa even messaged chef Liam Bennett saying she was willing to promote the dausage.
"Among all the tweets about the dausage there was one being re-tweeted hundreds of times around the world. The next thing I knew this same girl who wrote the tweet had sent me a personal message basically saying that she wanted to get on board and help promote the dausage any way she could," Bennett told the media, according to the Inquisitr.
"At this point I searched for her name online to find out who she was and it's fair to say I had a bit of a shock. I was hoping to use Mia in some advertising campaign material but I think she had concerns when I mocked up a picture of her face covered in jam.
"Anyway she has kindly agreed to use her worldwide following to promote the dausage as we approach our final Kickstart target. So we have her support," Bennett said.
It remains to be seen what the future holds for the adult entertainment star. If a stint in the food industry does not work out for Khalifa, she could thrive well as a sports commentator. Khalifa is a diehard fan of the Florida State Seminoles, and her Twitter account is flooded with her commentary on football.