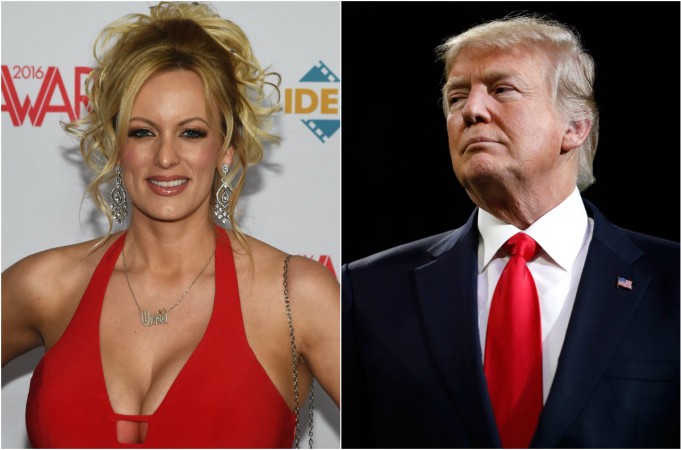 Porn star Stormy Daniels is all set to release a memoir about her affair with United States president Donald Trump. The book has explicit details about their sexual encounter back in 2006.
Warning: Daniels vividly describes Trump's penis, so proceed reading with caution.
The Guardian obtained the book in which Daniels tells the tale of how she became a stripper at a very young age and continues to describe her life in as an adult movie star.
The 39-year-old also writes about her long claimed affair with Trump before he became the president and all the imminent threats she received to not come out with her story.
Daniels claims to have had sex with Trump in his hotel room after the charity golf tournament in Lake Tahoe, according to news.com. "He had a red cap, a Trump crest as a placeholder for the MAGA slogan not one of us could see coming," she described her first meeting with Trump.
After their meeting, Trump's bodyguard invited Daniels to dinner. She goes on to describe her sexual experience with him. "It may have been the least impressive sex I'd ever had, but clearly, he didn't share that opinion," she wrote.
"He knows he has an unusual penis," she said. It was "a huge mushroom head" like a "toadstool." It was "smaller than average" but "not freakishly small".
"I lay there, annoyed that I was getting f–ked by a guy with Yeti pubes and a d–k like the mushroom character in Mario Kart," the book read.
This is what the mushroom head character from Mario Kart looks like. Yep! childhood memories are officially ruined.
Social media lit up with comments regarding Trump's penis to Toad, Princess Toadstool's trusty servant in Mario Kart.
Pornhub too took to Twitter and wrote, "MORNING! Anyone wanna play Mario Kart?"
Daniels had told Vogue in August that the sex was not forced. "Not once did I ever feel like I was in any sort of physical danger. I'm sure if I would've taken off running, he wouldn't have given chase. And even if I had, there's no way he could've caught me."
The reality TV star wrote that she has been threatened and warned to keep her mouth shut about her encounter with Trump. "We've been in a couple of car chases," she added.
"We've had people put notes under the door, which means they know what hotel I'm in, which means we've had to change hotels in the middle of the night."
She allegedly received a lump sum amount of $130,000 from Trump's lawyer Michael Cohen to refrain from going public with the story.