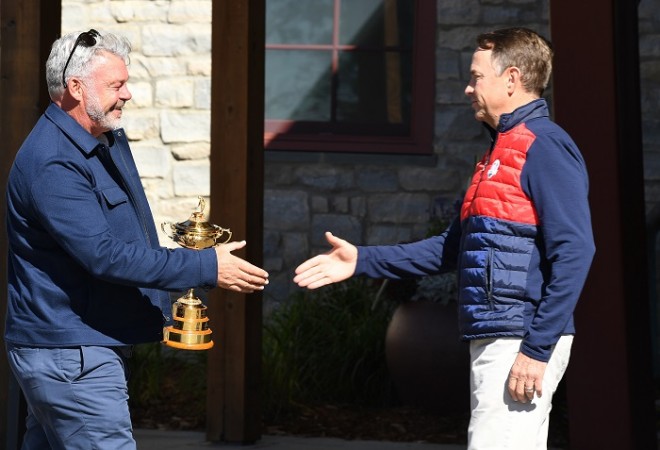 Davis Love has ramped up the pressure on his own team by saying the popularity of the Ryder Cup in the US is at stake at Hazeltine this weekend. Team Europe have dominated the Americans over the past decade, and Love believes if that trend continues, it could put the fans in the country off of this tournament.
Having given away a golden opportunity to take the Ryder Cup title back two years ago, when a Sunday capitulation and a Europe inspiration gave their opponents the crown, Love is determined to put things right on their own turf.
"If we keep losing then the American fans are going to say: 'To heck with that, we'll go and watch something else,'" Love said. "You know American sports fans – we are bandwagon jumpers.
"We have some cities that are loyal, Chicago to the Cubs, New York to their teams, but in general we are a 'what's in it for me right now?' society. If we keep losing, people are going to quit watching. You will still have your golf fans but will it continue to grow like the last 20 years? No. We need a win."
And the key to that win could be the fact that USA, this time around, is a relatively fresh outfit, with a lot of young and raw stars ready to make their impact in the best team golf tournament in the world.
"I keep telling our guys, this team have never played together before," Love continued. "They don't have to worry about what other teams did. We have a new makeup. Sure, some of the guys have played before but this team has never played together before. These guys have an opportunity to go and compete and win. The other teams aren't going to help or hurt them."
There have been suggestions, well from Lee Westwood at least, that the presence of Tiger Woods as the vice-captain could end up hurting the US team more than helping them, considering all the attention that the superstar will be given over the course of the tournament. However, Love was quick to rubbish those suggestions and believes a "grown-up" Woods will bring unity and experience to this US side.
"I think he, like the rest of us, has grown up," Love said of Woods. "He is a veteran now. He has seen his ups and downs but knows Davis Love and Jim Furyk (another of the vice-captains) are still his friends, still believe in him.
"Tiger and Phil Mickelson have gone from superstar individuals to team leaders. Tiger has told me: 'We've been in this team for 20 years together. I've got your back.'
"This is not a random group of people, this was a plan that started in December 2014."