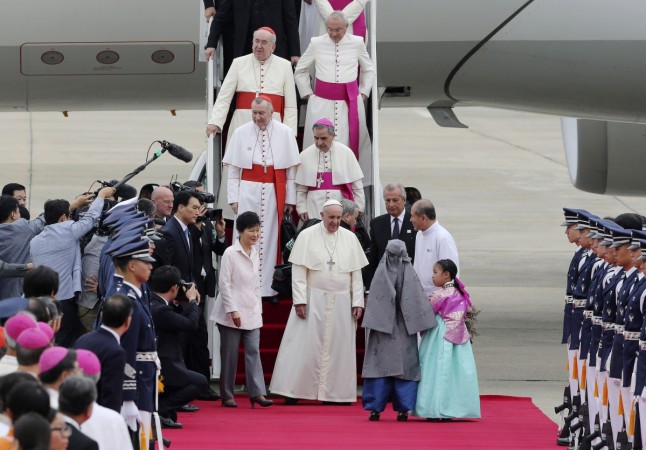 As Pope Francis landed in South Korea with a message of peace for the Korean Peninsula, North fired off three short-range rockets into the East Sea on Thursday, displaying its vice for any foreign element of western backing who comes to the area.
North Korea has been intolerant towards any activities that seem to display signs of cooperation between its all-time foe, South Korea and a western leadership. The country has particular aversion with the Christian world, as depicted by its arbitrary sentencing of Christian missionaries in the country in the past.
The projectiles, presumed to have come from a 300-millimeter multiple rocket launcher, "were fired from its eastern border town of Wonsan in a north-eastern direction for about 25 minutes from 9:30 am in succession," South Korean Yonhap News Agency quoted a government spokesperson, Um Hyo-sik as saying.
The rockets travelled 220 km before landing in waters east of the Korean peninsula, the defence spokesperson said, noting that Pyongyang had not imposed a no-fly, no sail zone ahead of the launch.
"Our military has maintained vigilance against additional launches and is taking necessary steps," Um added.
The last rocket was fired about 35 minutes before Pope Francis was due to arrive at an air base in Seoul, where the Pontiff has started a five-day visit, Reuters reported.
The military sources have said the communist country seems to be testing its rockets in an effort to increase their range. The launcher, known as the KN-09, was thought to have a range of 160 kilometres but some rockets that were fired last month have been reported to have travelled up to 210 kilometres.
The short-range firing came only days ahead of joint US-South Korean military exercises scheduled to start on Monday. Seoul and Washington have always said the exercises are defensive in nature but the North continuously protests against the drills, alleging that the two allies were rehearsing a war against it.
When North Korea last fired its short-range rockets in late July, it repeatedly said that the launches were specially designed as counter measures against the military exercises going to be held in South Korea.
A statement carried by North Korea's state media last Friday said: "Given that the US and the puppet forces of South Korea continue staging nuclear war exercises against us in particular, we will take countermeasure for self-defense which will include missile launches, nuclear tests and all other programs."