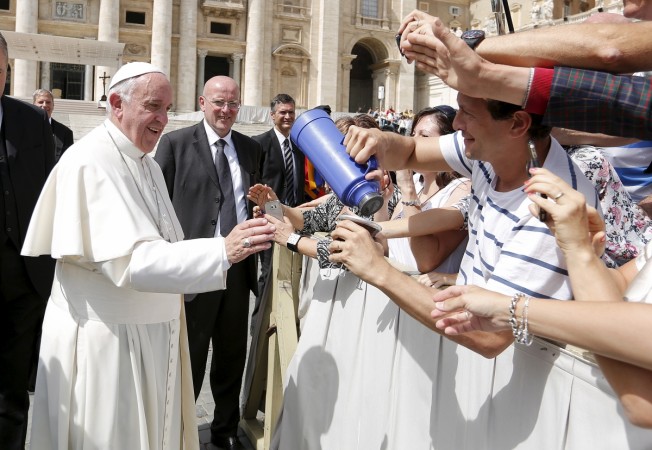 In the Christian proclamation on marriage and family issues released Friday in Europe's Vatican City, Pope Francis asked the Roman Catholic Church to "limit judgment" and be more tolerant of divorced and remarried people, and "wounded families". There has been no change in the doctrine, but Francis has urged priests to be more understanding while intepreting the existing doctrines in today's world.
Although, Pope Francis in the document asks Catholic couples to consider divorce as a last resort, "after all other reasonable attempts at reconciliation have proved vain."
"In considering a pastoral approach towards people who have contracted a civil marriage, who are divorced and remarried, or simply living together, the Church has the responsibility of helping them understand the divine pedagogy of grace in their lives and offering them assistance so they can reach the fullness of God's plan for them," the document reads.
He has also asked the priests to be more welcoming towards single parents and homosexuals. However, he firmly put that gay unions would not be considered similar to marriages of heterosexuals.
The observations were made in the over-261-page document — Post-Synodal Apostolic Exhortation "Amoris Laetitia" or "The Joy of Love."
"The Synod Fathers observed that, as for proposals to place unions between homosexual persons on the same level as marriage, there are absolutely no grounds for considering homosexual unions to be in any way similar or even remotely analogous to God's plan for marriage and family'," the document reads.
"We would like before all else to reaffirm that every person, regardless of sexual orientation, ought to be respected in his or her dignity and treated with consideration, while 'every sign of unjust discrimination' is to be carefully avoided, particularly any form of aggression and violence," it adds.
"A pastor cannot feel that it is enough simply to apply moral laws to those living in 'irregular' situations, as if they were stones to throw at people's lives."
The document was prepared after two gatherings of Catholic bishops, or synods, in 2014 and 2015, to discuss family issues, Reuters reported.