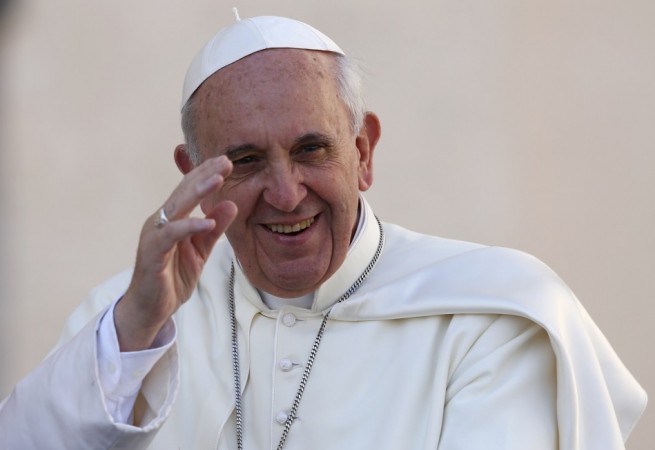 In what could be seen as a move to promote the message of love and peace in the war-divided peninsula, Pope Francis is set to visit South Korea in August this year.
A statement from the office of the Holy See confirmed on Monday that Pope Francis will visit the Republic of Korea between 14 to 18 August.
"His Holiness Pope Francis will make an Apostolic Voyage to the Republic of Korea from 14 to 18 August 2014, on the occasion of the Sixth Asian Youth Day, to be held in the diocese of Daejeon," Vatican spokesman Father Federico Lombardi said in a statement. He went on to say that the Pope would visit Seoul for a beatification ceremony of 124 Korean Catholic martyrs.
The Pope will meet South Korean President Park Geun-hye during his visit, attend a gathering of Catholic youths from over 15 countries and preside over a canonisation ceremony for 124 Korean martyrs, according to South Korea's Yonhap news agency.
It will be Pope Francis' first trip to Asia. He had earlier expressed his wish to visit the continent and a number of countries from the Asia-Pacific region.
Pope John Paul II last visited South Korea in 1989, a few years after he canonized 103 Korean martyrs.
Welcoming the decision of the Pope to visit the country, Bishop Peter Kang U-il, president of the Catholic Bishops' Conference of Korea, said that it was the aspiration of the Holy Father to bring peace in the region and the world that made him to take the decision.
"I think his choice of the divided Korean Peninsula as the destination of his first Asian trip came out of his aspiration for peace on the peninsula and the rest of the world and his hope to pray together with Asian youths," Kang was quoted as saying by Yonhap.
The relation between South Korea and North Korea has been strained ever since the 1950-53 Korean War which ended in a ceasefire.
Andrew Yeom Soo-jung, South Korea's cardinal, said in a statement that the Pope's visit will be a pleasure and a blessing to the nation.
"We wholeheartedly welcome Pope Francis' visit to South Korea and appreciate him for deciding to travel so far to be with Asian youth and Korean Catholic followers," said Yeom.